If you have celiac disease in the USA you need to buy specific gluten-free oatmeal. That's right, not all oatmeal is gluten-free.
This was devastating for me to find out when I was first diagnosed with celiac. Oatmeal used to be my favorite bedtime snack growing up.
Why? Because every time I'd stay the weekend with my grandparents, we'd arrive at their house late and hungry and my grandpa would fix me a cozy bowl of oats before sending me to bed.
So naturally, with such a strong happy memory associated with oatmeal, it was upsetting to learn I might not be able to always eat them.
So let's talk gluten-free status of oatmeal.
Oatmeal Isn't Always Gluten-Free
The gluten-free status of oatmeal is complicated. To make it brief, if the oatmeal is certified gluten-free, purity protocol, or has a statement of testing on them like Bob's Red Mill, then it is generally safe.
If the oatmeal doesn't have any of those things, then it isn't safe. To learn more about the nuances of the safety of oats, check out this post.
What this means is a regular tub of oats from the grocery store likely won't be safe. Instead, you need to choose specifically marked products to ensure safety.
Don't Let the Complicated Nature of Gluten-Free Oats Scare You
Gluten-free oatmeal can be a great addition to your diet, so don't let the complicated nature of the safety of oats scare you. In most cases, it is possible to enjoy gluten-free oatmeal in the USA.
And the dietitian in me actually encourages you to eat more celiac-safe oatmeal. That's because oats are a great source of gluten-free whole grains. Something that many gluten-free diets lack.
Additionally, oats have what's known as beta-glucan. A specific type of soluble fiber that has been linked to support heart, immune, and blood sugar health (among many other things). Not to mention, soluble fiber helps keep your toilet habits regular (if you know what I mean).
Lastly, oats are a source of B vitamins, magnesium, iron, and zinc. All of which are nutrients of concern when it comes to celiac disease.
If you cook your oats with milk or milk alternatives, then you'll also add gluten-free sources of calcium to your breakfast! Another key nutrient to pay attention to with celiac.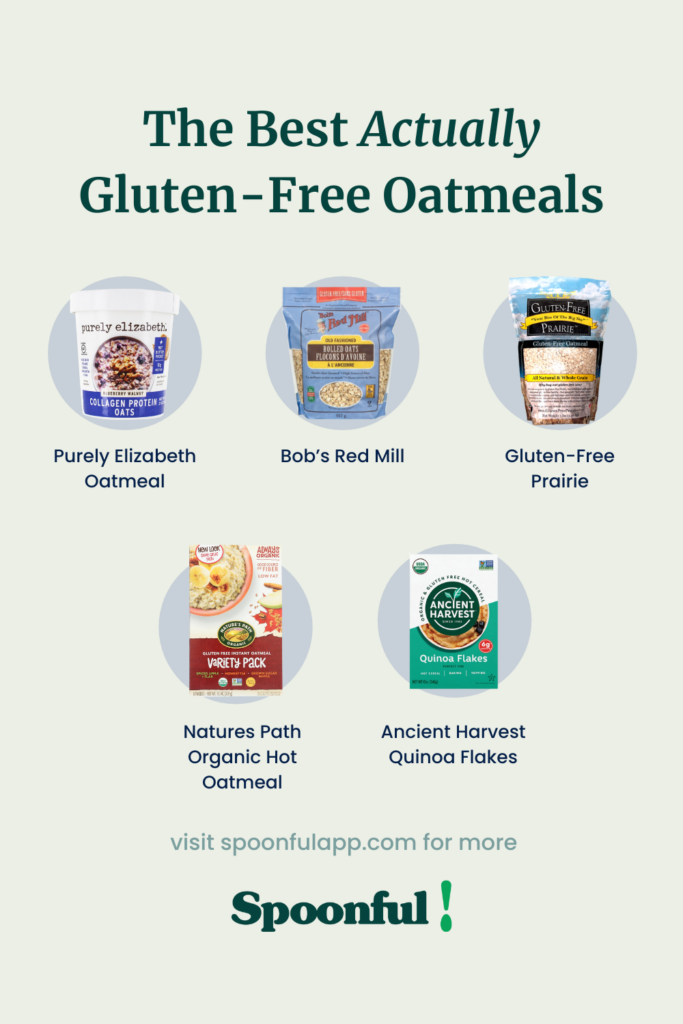 5 Gluten-Free Oatmeals You Need to Try
Convinced that you should enjoy gluten-free oats? We love to hear it. Below are some of the best gluten-free oatmeals on the market!
Purely Elizabeth Oatmeal
Purely Elizabeth has several lines of gluten-free oatmeal available. According to their website FAQ accessed 6/9/2022:
"We use only certified gluten-free oats and follow a strict process for gluten testing. In addition, all of our products are produced in certified gluten-free facilities."
A reminder that certified gluten-free oats are the gold standard for people with celiac, so this makes these oats a great choice.
You can buy bags of Purely Elizabeth Superfood Oatmeals, like this one, for around $5-$8 depending on where you're shopping.
But you can also buy packets and cups of Purely Elizabeth Oatmeal. The packets are about $5 for 6 and the cups at about ~$4 each. Which makes them a perfect gluten-free whole-grain on-the-go option.

Bob's Red Mill
Another brand selling gluten-free oatmeal is Bob's Red Mill. Their oats are a great example of when oats are considered safe because of marked testing verifications.
If you look on the back of the Bob's Red Mill gluten-free oatmeal bag, you'll find a statement saying they test the oats to confirm gluten-free status. This is what we want.
The plain big bag of Bob's Red Mill GF oatmeal is readily available and fairly cost-effective at around $6 for 32oz of oatmeal.
Their travel cups of oatmeal that just require hot water are less cost-effective at ~$3 for a 2oz cup.
That said, they are slightly more affordable than Purely Elizabeth and perhaps they make up for the cost difference in convenience and flavor.
These cups of oats come in flavors like Cranberry Orange, Fruit & Seed, Pineapple Coconut, Brown Sugar, and more!

Gluten-Free Prairie
If you're looking for some purity protocol gluten-free oatmeal, then Gluten-Free Prarie Oatmeal is perfect for you.
A reminder that purity protocol oats mean the oats generally haven't been grown in fields with gluten-containing grains for a period of time, and dedicated equipment and facilities are used to prevent contamination. This standard often goes way higher than gluten-free certifications.
The only downside to this oatmeal is that it's only available on Amazon and it's quite pricey at $16.99 for 48oz due to the special processing nature of them.
Additionally, this oatmeal only comes in one flavor, plain. But what that really means is you have all the creative freedom in flavoring the oatmeal when you cook it.
Natures Path Organic Hot Oatmeal
At around ~5/box for 8 packets of gluten-free oatmeal, these oats are one of our top picks! They come in a variety of flavors including spiced apple, homestyle, and brown sugar maple.
Here, we know the oats are safe because Nature's Path states in their FAQ that products marked gluten-free are tested to <20ppm.
If you're looking for extra fiber and protein in your oatmeal, you can try their gluten-free Qi'a Oatmeal. This oatmeal has chia, hemp, and buckwheat to boost nutrition! All of which are sources of gluten-free iron, zinc, and other nutrients of concern with celiac.
What if You Can't Have Oatmeal?
Gluten-free oatmeals aside, what if you can't actually have oatmeal? Whether you have celiac and are one of the few people who react to the oat proteins like they do gluten, or you have an oat allergy on top of your gluten-free needs, there are some delicious oat-free alternatives out there to try too!
To get you started, my favorite is Ancient Harvest Quinoa Flakes. At around $8/12oz box, these are another gluten-free whole grain alternative to oats. Plus they pack in extra protein thanks to the quinoa base.
What's your favorite gluten-free oatmeal? Let me know in the comments!