As we continue grappling with the "new normal", many of us have taken comfort in the simple pleasures of baking. Baking provides a loose structure to our evenings, it involves the whole family, and there's no better smell than a fresh batch of blueberry muffins hot out the oven. Though traditional recipes often call for high FODMAP ingredients that may trigger IBS symptoms, I've created a list of low-FODMAP baking essentials that are good for your gut AND your taste buds.
Before we get into it, a quick rule of thumb: high FODMAP foods are carbohydrates, fibers, and sugars. Fat and protein-based ingredients are low FODMAP, which means your basic baking ingredients such as eggs, oil and butter (this contains only trace amounts of lactose which is not of concern) are considered low FODMAP. All spices used for baked goods (unless for some crazy reason your cookie recipe calls for garlic and onion), are low FODMAP. Leaveners such as baking powder and baking soda, plus yeast are all low FODMAP as well. Be sure these are fresh to ensure the best results!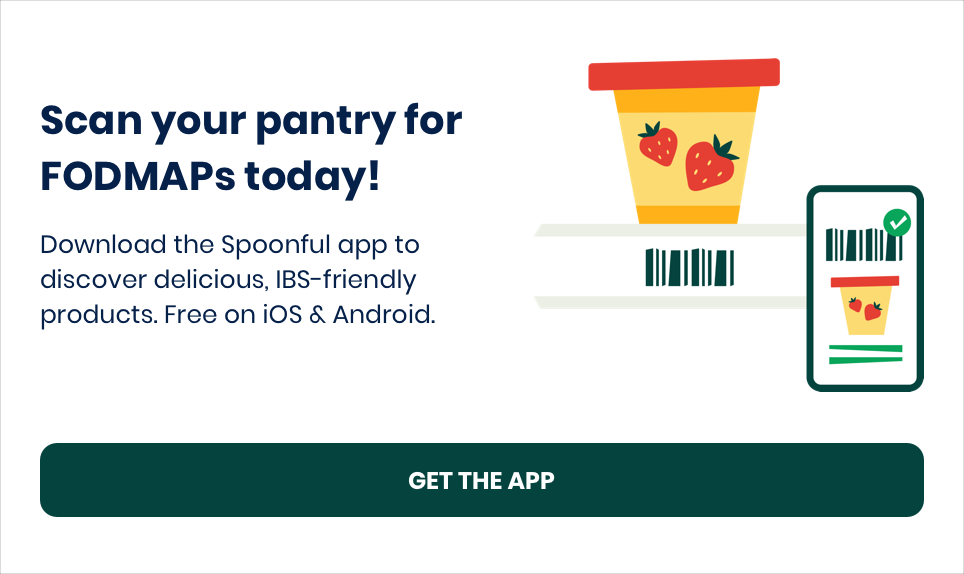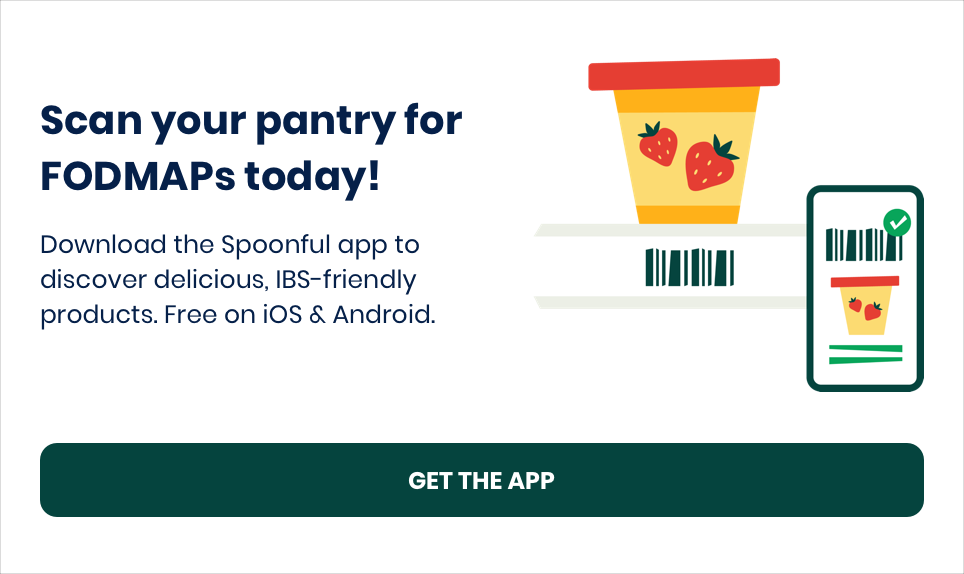 What flour should I buy?
Wheat flour is a common ingredient in many baked goods. While a small portion of wheat is compliant, we recommend swapping in a gluten-free flour instead of wheat-based all purpose flour. This way, you can enjoy a moderate serving or maybe even a little more.
My favorite product here is Bob's Red Mill Gluten Free 1-to-1 Baking Flour.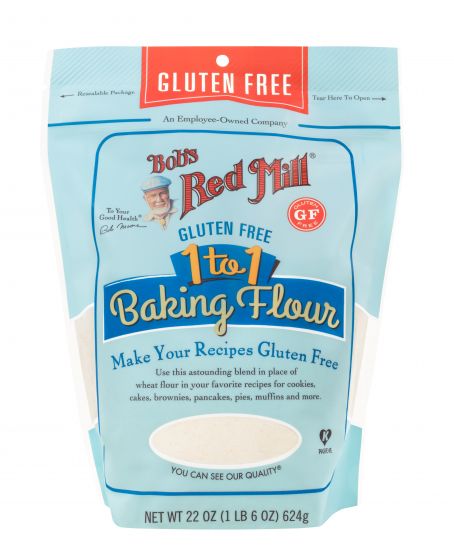 It's much easier to substitute products like the above, because the proper ratio of flours and xanthan gum can be tricky and spendy. This gluten-free all purpose flour makes substitutions much easier with less room for error.
You may be wondering if the gluten-free baked goods often found at grocery stores and coffee shops are low FODMAP — not necessarily. While gluten-free does mean no wheat, barley or rye, it doesn't mean that other high FODMAP ingredients like honey and apple pureé aren't lurking. Like always, be sure to scan the label before adding to your cart.
Finding a Good Substitute for Milk
Lactose-Free or Non-Dairy Beverages
Cow's milk is a common high FODMAP baking ingredient. A simple swap to lactose-free milk will ensure your final product tastes the same. Opting for an unsweetened almond milk, rice milk, and soy milk (made from soy protein) will likely result in similar outcomes. Check out this article for other low-FODMAP milk alternatives. Here is a common lactose free milk you can find at most grocers.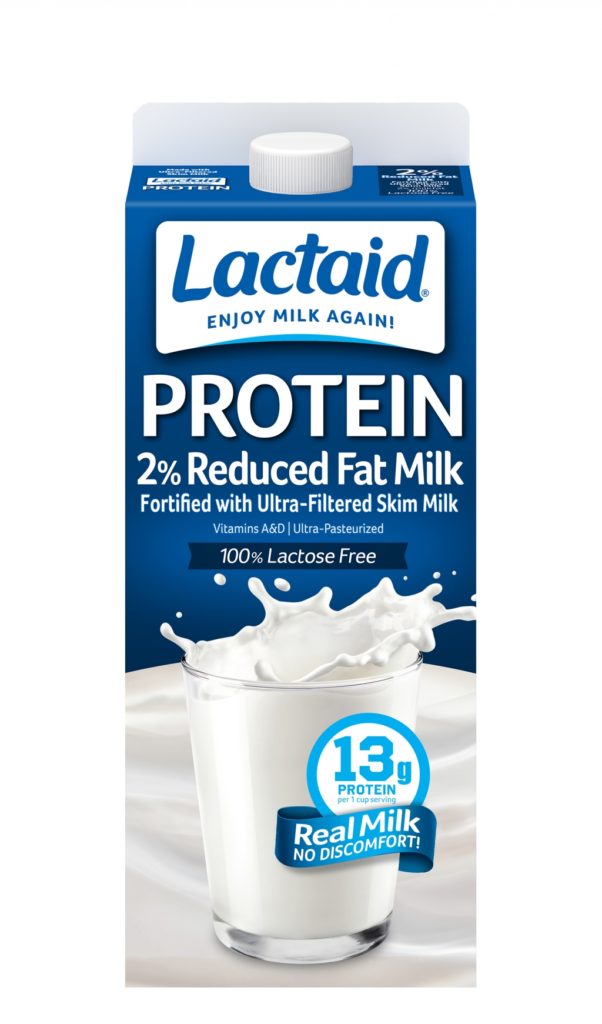 Homemade Lactose-Free Buttermilk
Buttermilk is common baked good ingredient. I have not found a lactose-free buttermilk, however you can easily make your own by adding one tablespoon of lemon juice to one cup of lactose-free milk. Just let it sit a few minutes for the magic to happen!
Lactose-Free Evaporated Milk
Nestle Carnation Lactose-Free Evaporated Milk makes for a perfect swap for evaporated milk.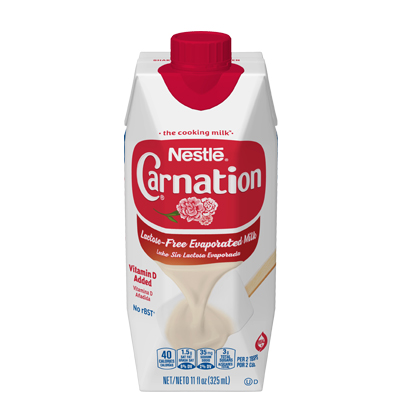 Whipped Cream
Okay, what is pie without whipped cream? Cool Whip contains high fructose corn syrup and possibly too much lactose due to the skim milk. You may want to try the non-dairy Reddi-wip made from almond and coconut milk instead.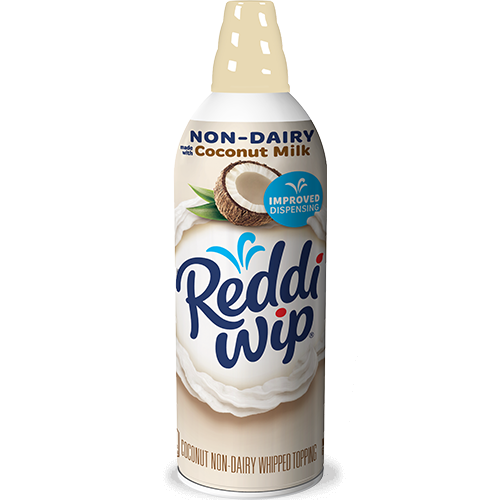 Or feel free to use regular dairy whipped cream, it is low FODMAP at one-half cup which is a pretty generous serving size.
Low-FODMAP Sweeteners
Cane sugar, granulated sugar, palm sugar, brown sugar, and just plain white sugar are all low FODMAP. Sugar is a key ingredient in many baked goods, so no substitutions are needed.
Corn syrup such as Karo Syrup is low FODMAP as it does not contain high fructose corn syrup. Other low-FODMAP sweeteners include rice malt syrup, stevia (watch out for inulin and chicory root which are often added), sucralose, and aspartame. Monk fruit has not yet been tested for FODMAP content, so best to approach with caution.
Honey, agave, golden syrup, coconut sugar, and molasses are high FODMAP in servings greater than one teaspoon, therefore, it is probably a good idea to swap these sweeteners with pure maple syrup. It is easy to exceed the low-FODMAP serving size with these sweeteners, which may push your portion into the red zone. Maple syrup is a perfect low FODMAP substitute and will yield excellent results.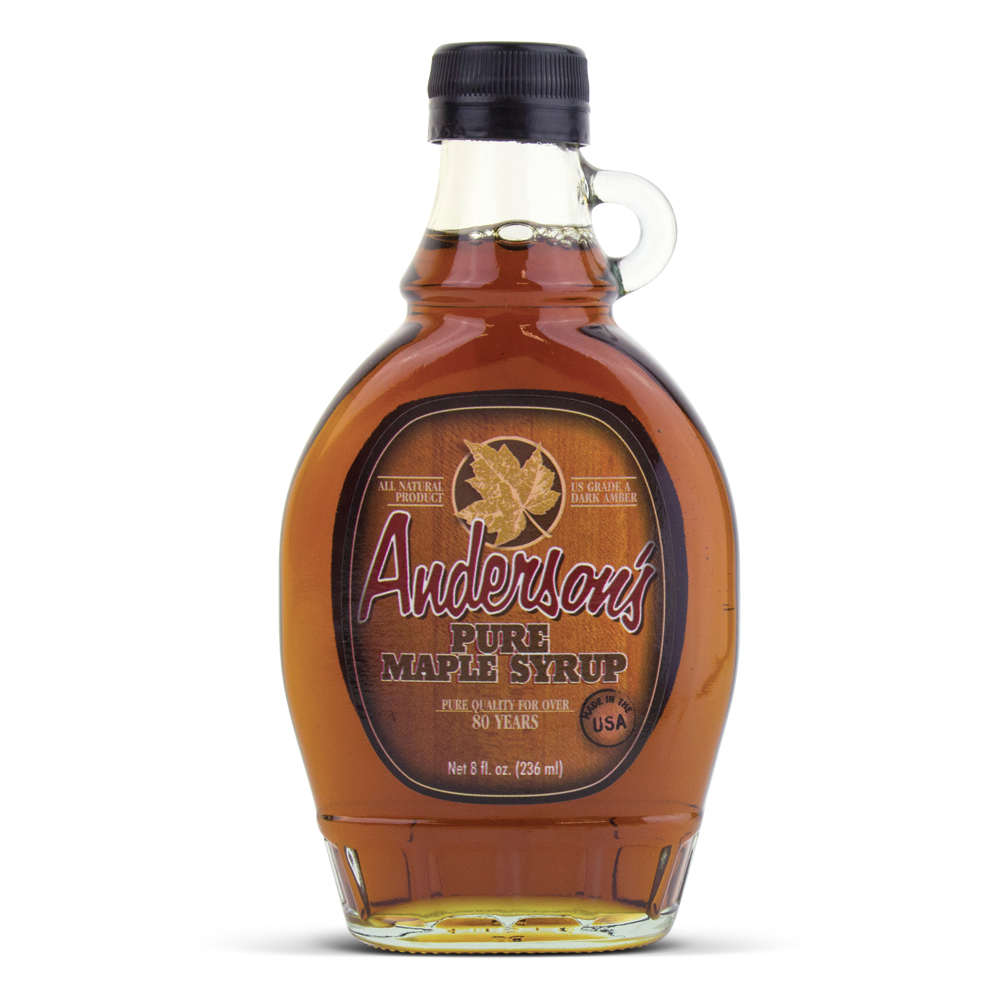 Watch out for polyols such as sorbitol, xylitol, mannitol, and maltitol. Erythritol appeared to be less of a concern since it does not reach the large intestines in significant amounts, however recent data suggests it may be a FODMAP trigger for some. I would discourage the sugar alternative Swerve and Lakanto as these contain monk fruit and erythritol.
What About Chocolate?
We really can not talk about low FODMAP baking without mentioning chocolate, right? Chocolate comes in many forms: cocoa, chocolate chips, and baker's chocolate to name a few.
Milk chocolate is low FODMAP in small servings and dark chocolate has a little larger portion size. Cocoa powder used for recipes most likely falls within a low-FODMAP serving size for a single portion or two.
There is sometimes whey and lactose added to some chocolate chips, best to choose an option like this so you can enjoy a little larger serving and not be too concerned about consuming too much lactose.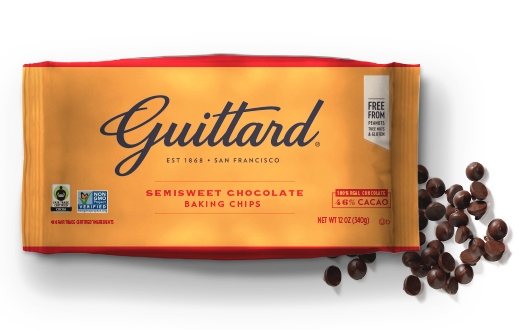 A low-FODMAP serving size of dark chocolate is 30 grams (approximately one ounce).
Milk chocolate is low FODMAP at 20 grams, and white chocolate has a safe serving size of 25 grams.
It is important to calculate the total chocolate used in a recipe and divide it into how many serving sizes to determine how many servings you can eat and stay in this range. For example, if a recipe calls for 240grams of dark chocolate, you can eat ⅛ of the total recipe to keep your portion at 30 grams.
Rolled Oats
Oats are not only low FODMAP, but they also offer a nice fiber boost plus added health benefits. Oats are a versatile, inexpensive baking ingredient found in many recipes. No need to purchase gluten free oats unless you have Celiac disease. You can even blend dry oats in a blender to make oat flour, just watch portions based on how much rolled oats you used before blending to keep your portion at one-half cup rolled oats per serving.
Quick note about some other low FODMAP cereals. General Mills Corn Flakes and Rice Krispies come in handy for a variety of low FODMAP treats. These are great to have on hand for baking — nd of course breakfast.
For those looking to take a short cut, here are a few low-FODMAP baked goods mixes that are easy to whip up with some simple add-ins such as eggs, oil, lactose free milk, or water.
Easy Low-FODMAP Baking Mixes
Bob's Red Mill Gluten Free Chocolate Chip Cookie Mix
Bob's Red Mill Gluten Free Pie Crust Mix
Bob's Red Mill Gluten Free Muffin Mix
King Arthur Flour Gluten Free Yellow Cake Mix
King Arthur Flour Gluten Free Chocolate Cake Mix
King Arthur Flour Gluten Free Cookie Mix
King Arthur Flour Gluten Free Brownie Mix
Krusteaz Gluten Free Blueberry Muffin
Krusteaz Gluten Free Yellow Cake Mix
Krusteaz Gluten Free Chocolate Cake Mix
Pamela's CornBread and Muffin Mix – great for cornbread, muffins, and savory tart crusts.
Gut-Friendly Recipes
Low FODMAP Peanut Butter Cookies and Low FODMAP Coconut Macaroons from A Little Bit Yummy are both absolutely delicious.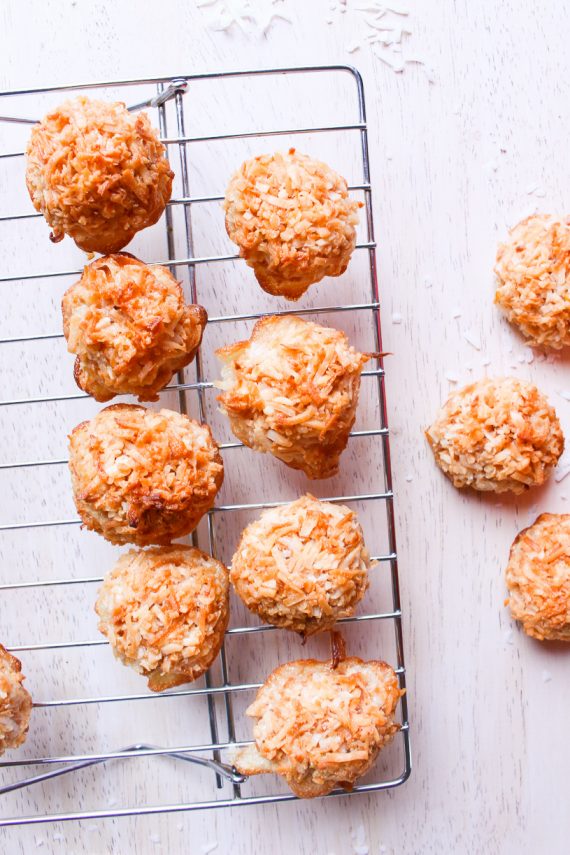 Low FODMAP Snickerdoodles by FODMAP Everyday will be a family favorite for sure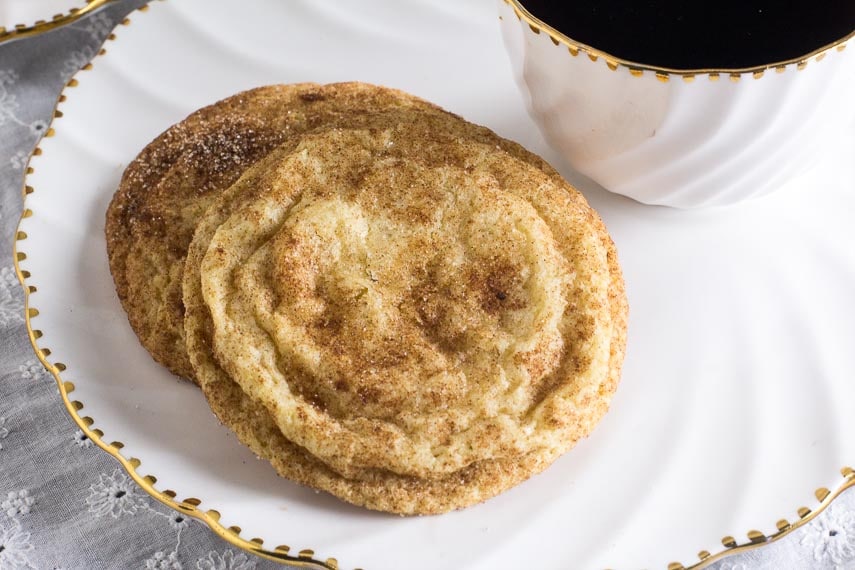 The Best Low FODMAP Blueberry Muffin is honestly one of the best! I really enjoy freezing a few to pull out later for a quick snack.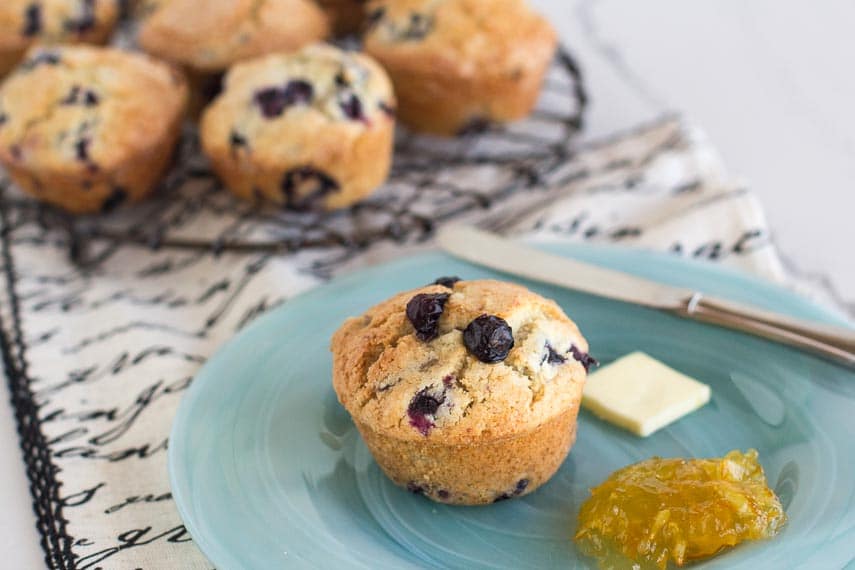 Low FODMAP Black & White Brownies recipe by FODMAP Everyday is just decadent!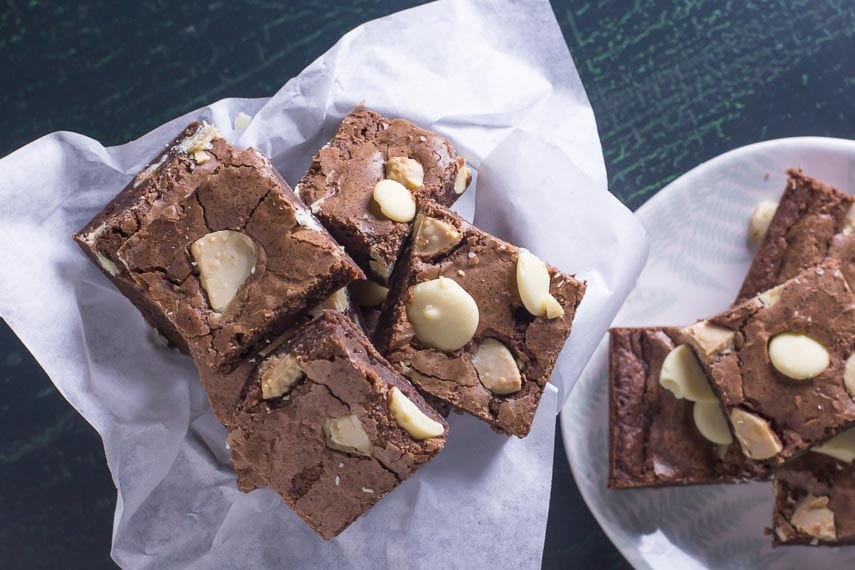 Best Low-FODMAP Sugar Cookies by IBS Free at Last are the perfect canvas for your next holiday themed cookies.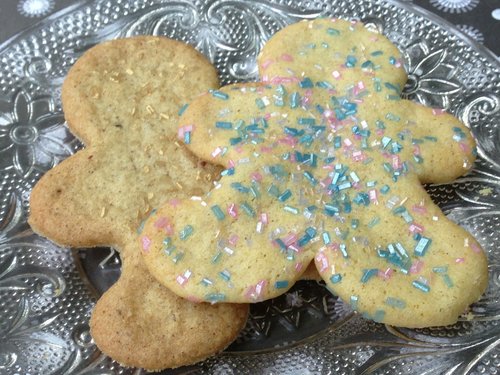 Carrot Cake with Cream Cheese Frosting by Kate Scarlata RDN is one of my favorites, can't resist carrot cake.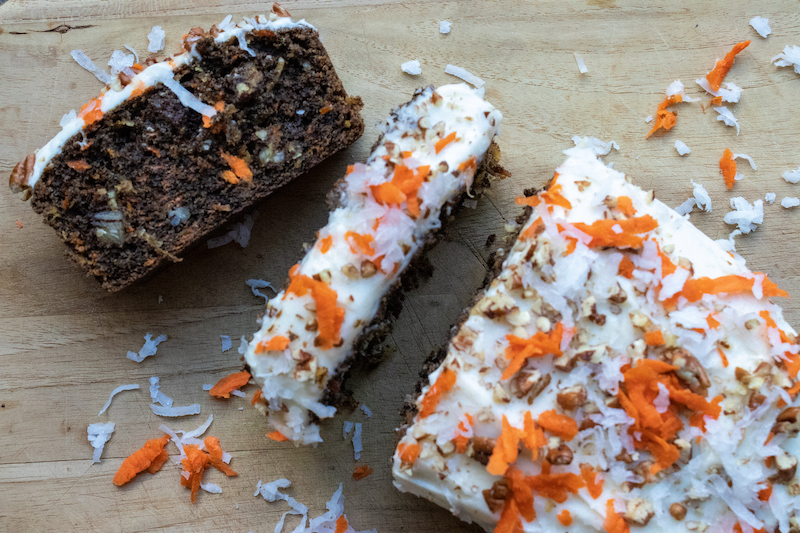 We hope these ingredient swaps help you easily convert all your favorite high-FODMAP baked food into yummy low=FODMAP treats.
Be sure to try one of the recipes listed above or browse the respected websites to find your new favorite recipe. And as a reminder, scan the UPC labels with the Spoonful App so we can help you feel more confident that you are choosing a low FODMAP alternative.