You may be wondering if you can still enjoy your favorite salad dressings now that you are embarking on a low FODMAP diet. The truth is, many commercial salad dressings contain high FODMAP ingredients like garlic, onion, and high fructose corn syrup, which rules them out of your weekly mix. But don't be alarmed! It's extremely easy to whip up your own low FODMAP salad dressing with a few simple modifications found in this article. And if you're not interested in making your own, there are also several certified and non-certified dressings on the market to choose from. Let's dig in!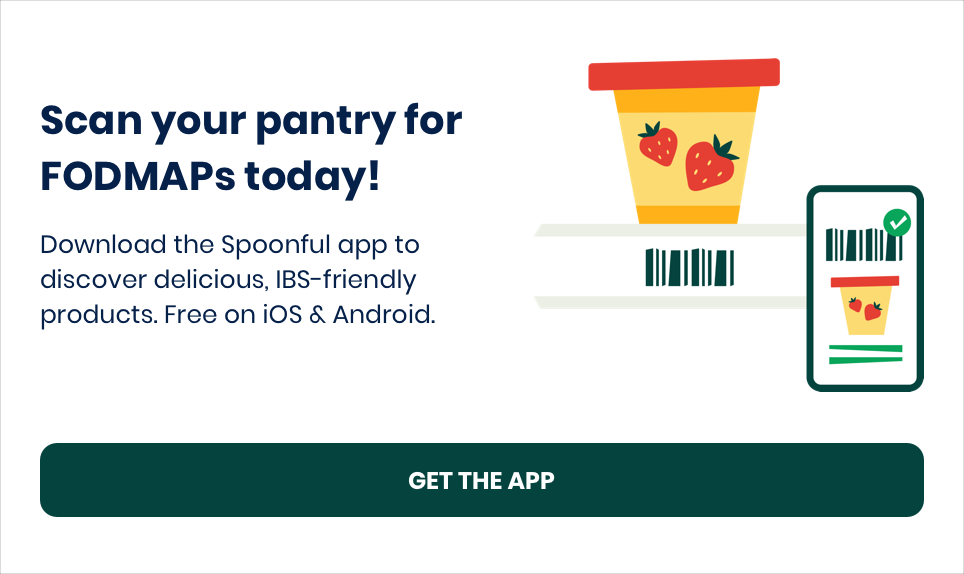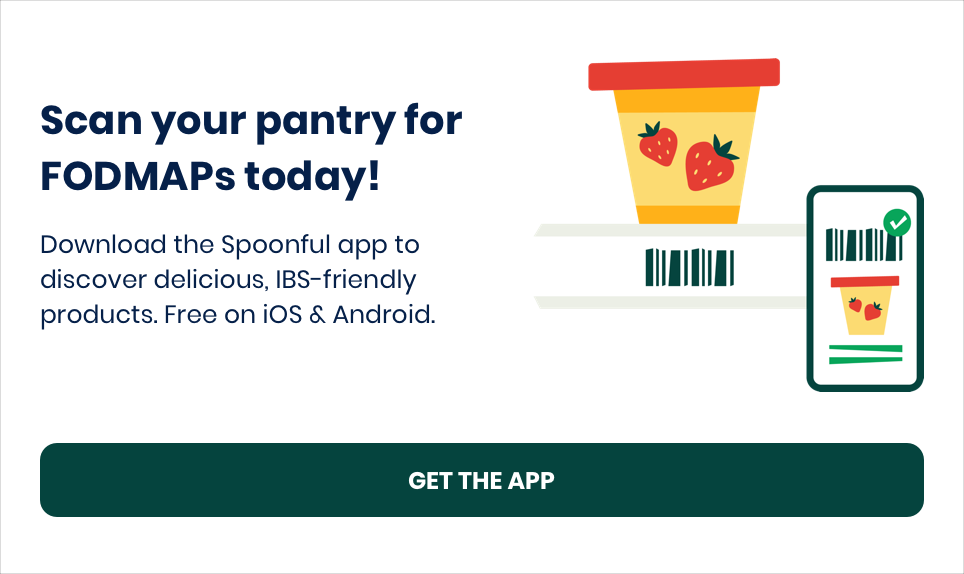 How to Make Your Own Low FODMAP Salad Dressing
If you have dietary restrictions or have followed a special diet in the past, there's a good chance you've made some modified salad dressings. Her are a few of the classics, remixed FODMAP style.
Ranch
Known for its creamy, tangy taste, ranch dressing is the perfect complement to salads, vegetable plates or (should we do it?) — pizza.
Most store bought ranches are made with buttermilk, salt, garlic, onion, mustard, herbs, spices, and mayonnaise. If you're looking to make creamy ranch without the FODMAPs, try these substitutes: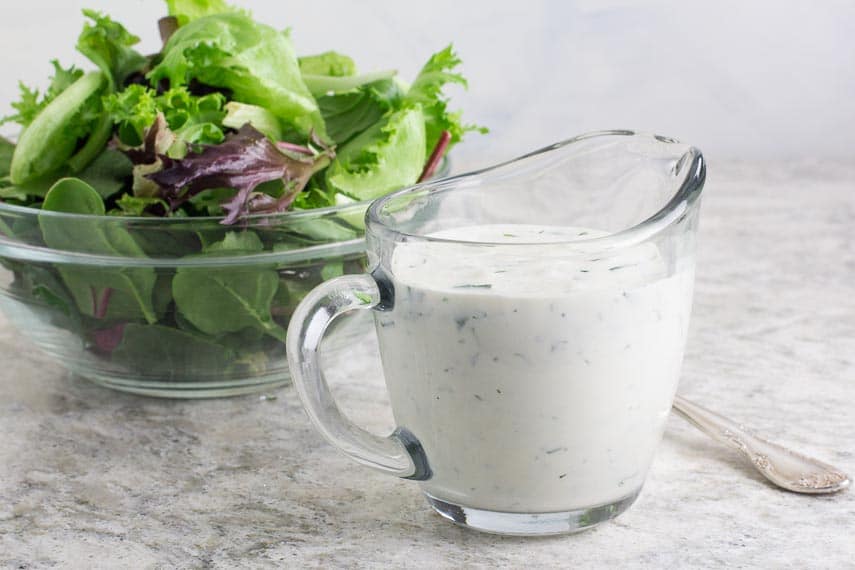 Recipe: Low FODMAP Ranch Dressing by FODMAP Everyday
Italian
Looking for a simple, versatile dressing with a bit of bite? Italian dressing goes great with a leafy greens salad or atop your favorite low FODMAP pasta.
Italian is made from water, vinegar or lemon juice, oil, bell peppers, sugar (often corn syrup and high fructose corn syrup in commercial brands), a blend of herbs and spices, and quite often onion and garlic.
| | |
| --- | --- |
| FODMAP Ingredient | Low FODMAP Swap |
| Garlic | Garlic-infused olive oil |
| Onion | Green onion tips and/or chives |
| High Fructose Corn Syrup | Sugar, maple syrup, or honey (see Monash for serving size) |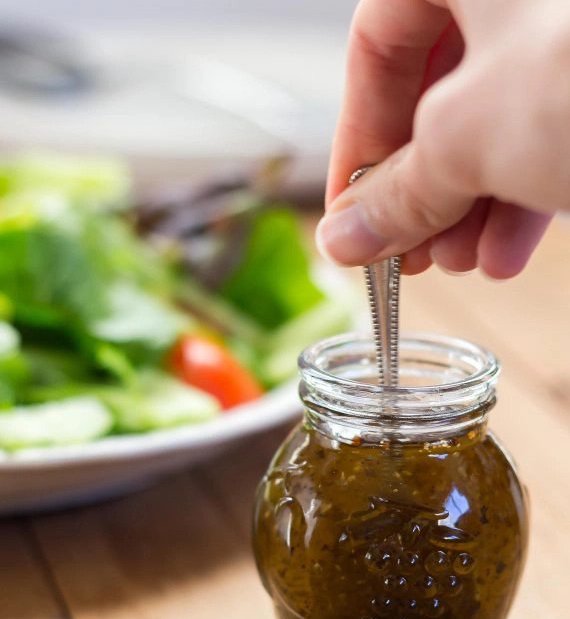 Recipe: Low FODMAP Italian Dressing by A Little Bit Yummy
Caesar
We'd forever be cursed by the infamous salad Gods had we not included Caesar.
Caesar dressing is made from lemon juice, olive oil, egg, Worcestershire sauce, anchovies, garlic, dijon mustard, parmesan cheese, and black pepper. It is often topped with garlic seasoned wheat based croutons.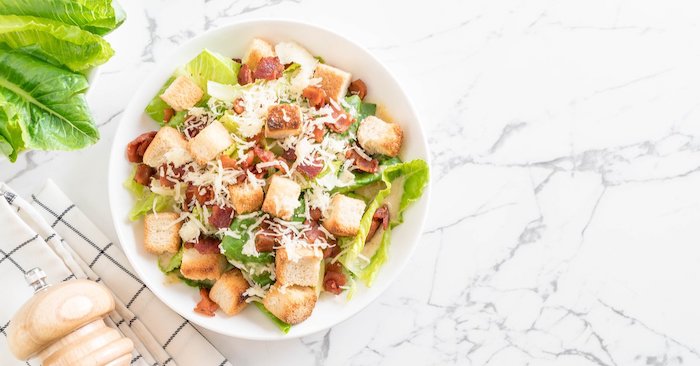 Recipe: Low FODMAP Caesar Salad by Monash
Blue Cheese
Looking for something thick with a bold, tangy flavor? Blue cheese adds a ton of flavor to a basic salad and, for the brave, can even be added atop your low FODMAP pizza.
Blue cheese salad dressing is made from a combination of different blue cheeses, mayonnaise, half 'n half or buttermilk, sour cream or yogurt, milk, vinegar, onion powder and garlic powder.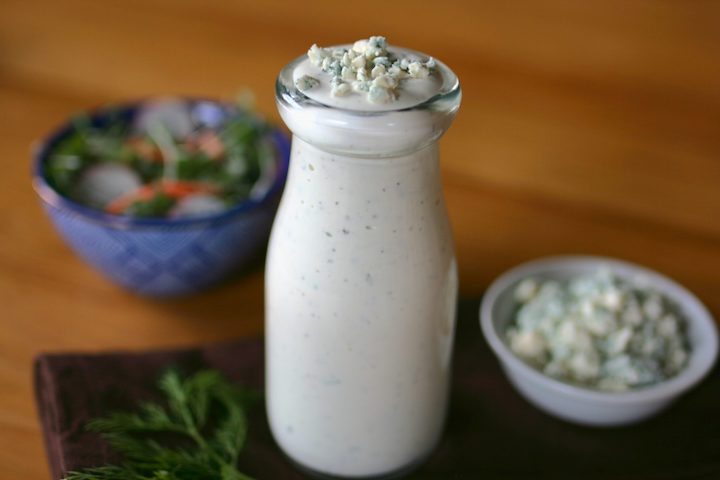 Recipe: Low FODMAP Blue Cheese Dressing by Rad Foodie
Honey Mustard
Honey mustard salad dressing is often made from honey, mustard, mayonnaise, vinegar, spices, and sometimes onion powder. Store-bought version of this product in particular tend to vary quite a bit, so make sure you read the ingredient label carefully. If you'd like to make your own, here are a few low FODMAP swaps.
| | |
| --- | --- |
| FODMAP Ingredient | Low FODMAP Swap |
| Honey | Watch portions or swap with maple syrup |
| Onion | Omit! This is not used in the majority of recipes. |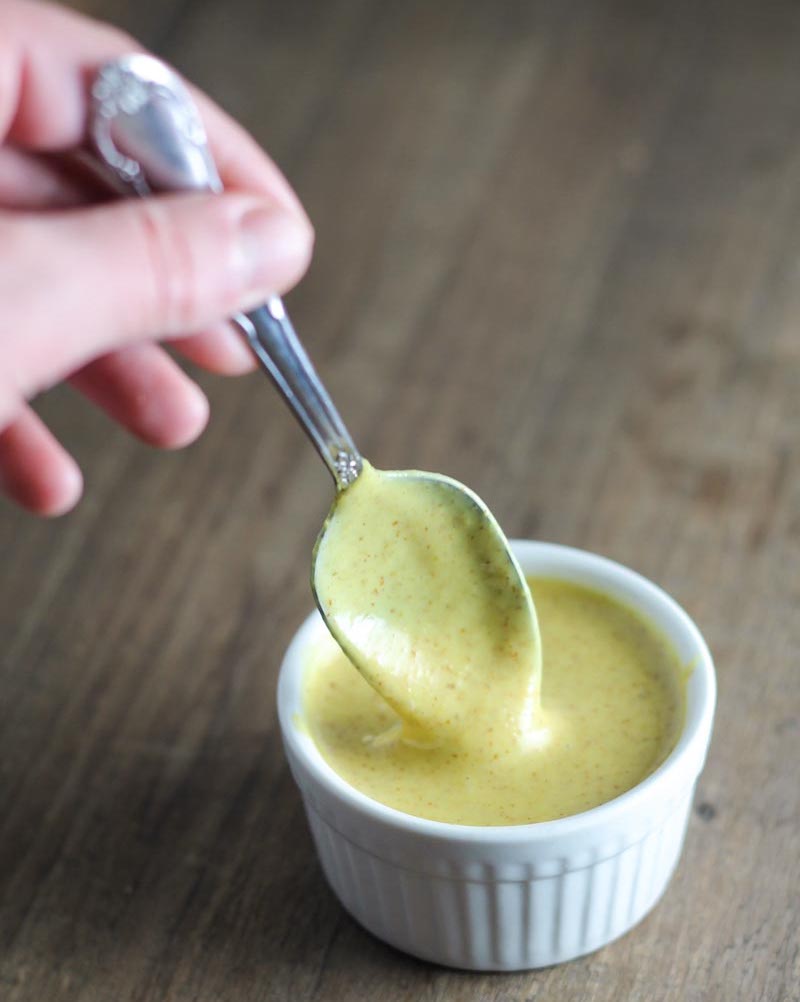 Recipe: Low FODMAP Creamy Maple Mustard by Fun Without FODMAPs
Our Favorite Store-Bought Low FODMAP Salad Dressings
Certified
There are many low FODMAP certified salad dressings available at your local market and online. Here are a few of my favorites from making many salads over the past few years.
FODY is rather popular and commonplace at most grocery stores. They offer a low FODMAP Caesar, French, Maple Dijon, and Garden Herb Salad Dressing.
Live Free Foods is available in some stores in the USA and can be purchased online. They offer a low FODMAP Ranch, Italian, and Caesar Salad Dressing.
Non-Certified
While it is common for high FODMAP ingredients to be added to most store-bought dressings, I have found many that meet low FODMAP criteria. It may take a little digging, but I'll bet you can find one of the below at your grocery store.
Annie's Homegrown Organic Balsamic Vinaigrette and Honey Mustard Vinaigrette
Bitten Blueberry Basil Salad Dressing
Brianna's Red Wine Vinaigrette
*I am not concerned with the less than 2% blueberry juice concentrate as this does not equal more than a quarter cup of blueberries.
Salad Dressing Label Reading Tips
If your grocer doesn't any of those brands or products, you can always seek out your own by following these tips:
Spices on a food label can NOT contain garlic or onion, so no need to avoid dressings with this ambiguous term.
Natural flavors may contain garlic and onion. Best to avoid or approach with caution if present in quantities greater than 2%.
Honey and agave syrup are commonly found on the food label. It is important to remember that 7 grams of sugar or less of these sweeteners is considered low FODMAP.
Health Myth: Fat-Free Dressings
For a variety of reasons, many salad dressings have a reputation for being unhealthy. Much of this misinformation stems from the fat-free craze of the 90s when we thought it was healthier to eat fat-free and low-fat salad dressings. This is so wrong!!
There is actually much research lauding the health benefits of unsaturated fats, and salad dressings fall into this category… even ranch. Fat-based salad dressing actually help absorb more of the vitamins and nutrients your body needs to thrive. For years, we have been warned about the dangers of fats, but this thinking is outdated. Salads are a great opportunity to enjoy avocados, nuts, seeds, and, of course, dressing.
I really hope this article helps you understand the ins and outs of how to choose and make a low FODMAP salad dressing. Look forward to your thoughts in the comments!