Did you think you were going to miss out on holiday baking this year? Don't worry! We've got your back. But instead of inundating you with a million mediocre recipes, we decided to take a quality over quantity approach and bring you our absolute favorite low FODMAP holiday treats. As always, the recipes are simple and made with everyday ingredients that you can find by searching in the Spoonful app.
I want you to have the absolute best experience with these recipes. While you are preparing the ingredients, pour yourself a cup of tea, and find some nice holiday tunes to fill your kitchen. When it's time to enjoy your creations, enjoy them mindfully with no other distractions, so that you give your food the attention it deserves!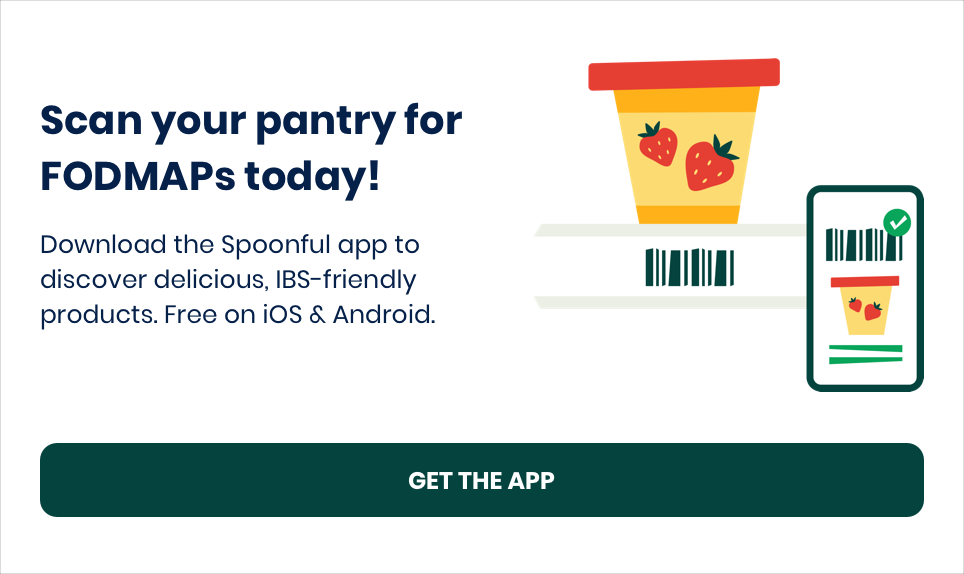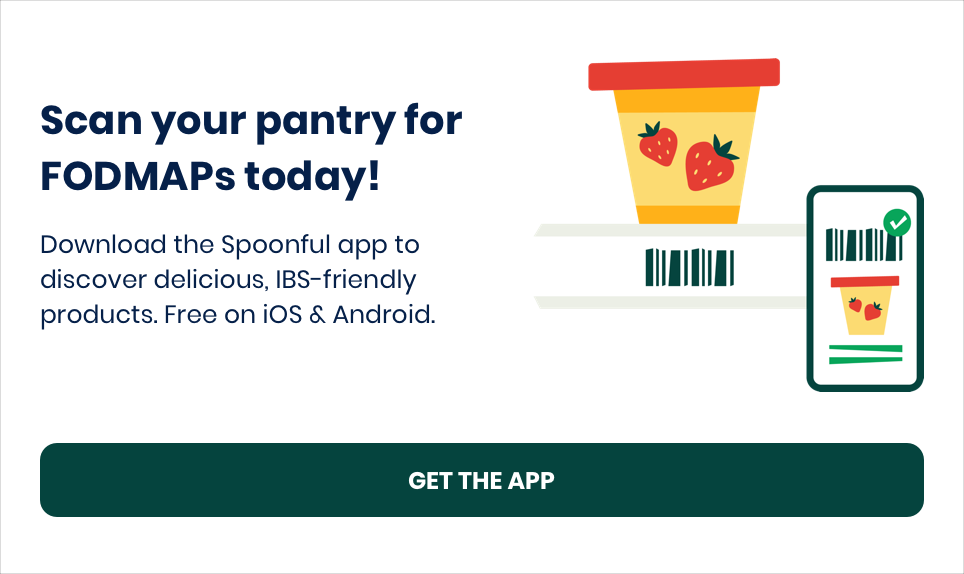 Low FODMAP Dark Chocolate Candy Cane Bark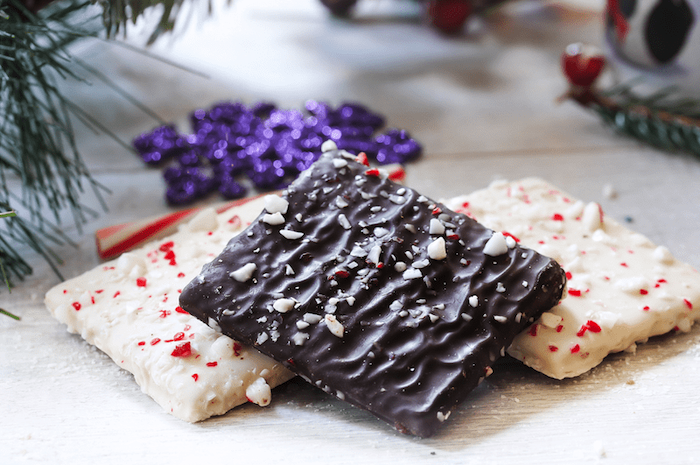 Prep and cook time: 10 minutes
Warning! This recipe disappears quickly. You may wish to buy double the ingredients so you can make it again. In the holiday season, I love it with crushed candy canes on top, but this low FODMAP treat works well with pecans too.
You will notice that this recipe can be made with wheat crackers. Wheat can be confusing on the low FODMAP diet, but remember that it does have a small acceptable low FODMAP serving size. If you prefer to use gluten-free, have a look through the Spoonful app for a gluten-free cracker that is square in shape.
Ingredients
40 Saltines or gluten-free crackers with salted tops
1 cup butter (salted or unsalted)
1 cup packed brown sugar
1 cup dark chocolate chips
⅓ cup crushed candy canes
Directions
Set your oven to broil (550F). Line a baking sheet with parchment paper or aluminum foil. Place the crackers in a single layer in a rectangular shape so that all of the sides are touching and there aren't any gaps between the crackers.
In a small pot, melt the butter and brown sugar over medium heat. Bring to a rolling boil then reduce to low and continue to boil for 5 minutes while stirring. Pour the mixture over the crackers so that each cracker is covered.
Broil for 3 minutes while keeping a close eye on it. The buttery mixture should bubble, but not burn.
Remove from the oven and immediately pour the chocolate chips evenly over top. Let stand for 1 minute to let the chocolate chips melt. With a spatula, spread the melted chocolate overtop so that each cracker is completely covered.
Top with crushed candy canes and let cool in the fridge or counter for about 1 hour. Lift the crackers off the parchment paper and break into pieces. Enjoy!
Low FODMAP Shortbread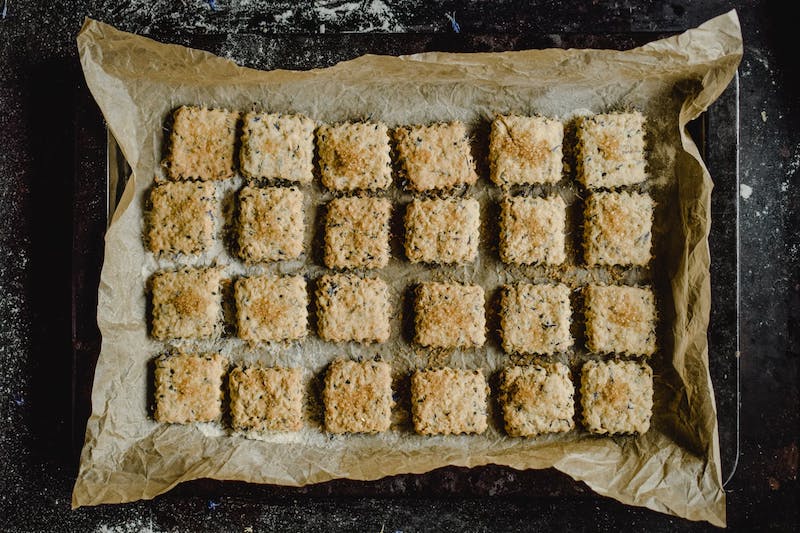 Prep time: 10 minutes
Cook time: 40 minutes
Here is a classic holiday treat that you can enjoy with some low FODMAP alterations. These cookies are buttery, delicious, and crumble in your mouth like every good shortbread should. They go particularly well with a nice cup of Earl Grey.
Ingredients
2.5 cups all-purpose low FODMAP flour (with xanthan gum)*
½ teaspoon salt
1 cup + 2 tablespoons unsalted butter, at room temperature
½ cup sugar
1 teaspoon vanilla extract
*Xanthan gum is an important ingredient with gluten-free baking, because it holds the recipe together.
Directions
Preheat the oven to 275F and line a baking sheet with parchment paper.
In a medium-sized bowl, mix the flour and salt.
Place the butter and sugar in a large bowl. The butter must be nice and soft. Cream on medium for 2 minutes until light and fluffy. Add the vanilla and mix again.
Add the flour mixture and mix on low speed until small pebbles form. Wash your hands and roll up your sleeves. Use your hands to shape the dough into a large flattened ball. You may need to work in all of the small bits.
On a lightly floured surface, roll the dough to about ½ inch thick. If your dough is too thin, the cookies will break. You may need to use your fingers to piece the outside edges together. Using a 2" or 3" cookie cutter, cut out cookies and place on the lined baking sheet. Re-roll the scraps until all of the dough has been used.
Bake for 40-45 minutes, until the cookies no longer crumble when touched. They are delicate when they are warm, but will become firm once cooled.
Low FODMAP Christmas Cookies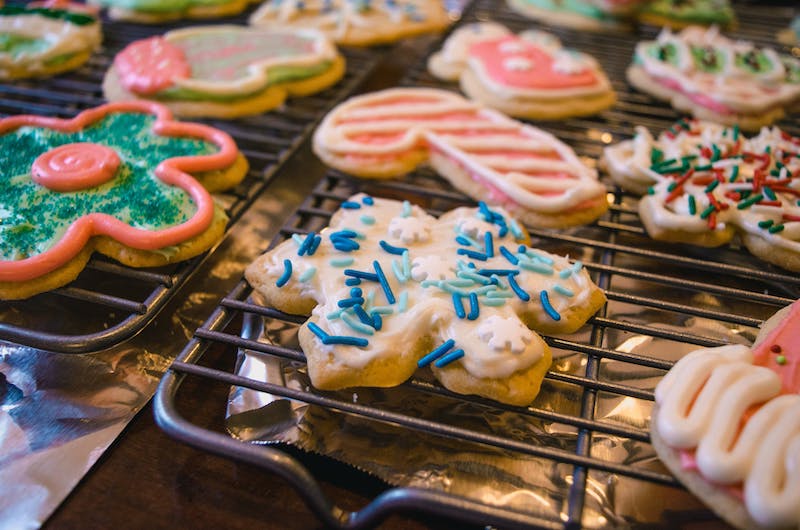 Prep time: 10 minutes (+ 1 hour to chill)
Cook time: 15 minutes
Let your artistic side run wild with some delicious Christmas cookies. Find yourself a low FODMAP icing and get started on some colorful cookie decorations. May the best design win (and perhaps be the one that doesn't have to clean up).
Ingredients
2 cups gluten-free flour with xanthan gum, plus more for rolling
1 cup sugar
½ cup butter (at room temperature)
1 egg
1 tablespoon water
1 teaspoon vanilla
¼ teaspoon salt
Directions
In a large bowl, cream the sugar and butter at medium speed.
Add the egg, water, vanilla, and salt. Blend well.
Add the flour and blend on low until combined. Cover and refrigerate for 1 hour.
Preheat the oven to 350F. Line a baking sheet with parchment paper.
Roll out dough on a floured surface until it is about ¼ inch thick.
Cut the dough with your favorite cookie dough cutters. Place on the baking sheet about an inch apart.
Bake for about 10-12 minutes. Remove from the oven and let cool completely before decorating.
Classic Egg Nog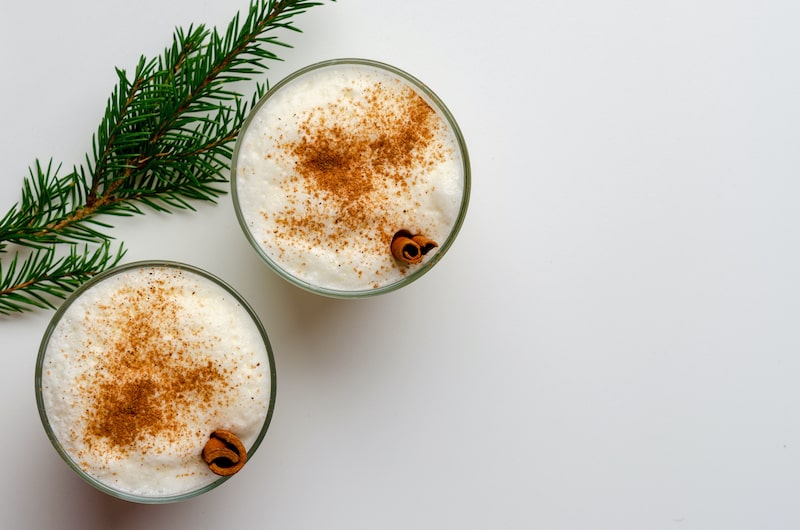 Prep and cook time: 10 minutes
You won't be able to resist a lovely cup of this homemade eggnog made with simple ingredients like eggs, cream, sugar, cinnamon and milk. Want to liven things up a bit? A splash of whiskey. From experience, I recommend that everyone enjoy eggnog in moderation. This holiday treat is low FODMAP, but can be very rich. Keep your portion to about ¾ of a cup. For a lighter version, I prefer to use 10% lactose-free cream.
If you haven't made eggnog from scratch before, know that you have to be careful with the egg yolks. The yolks must be carefully tempered, which means that you warm them sloooowly to a temperature of 160F to kill potential food-borne pathogens, while not warming too much to make them scramble. Keep a close eye on your thermometer and be careful not to overheat right at the end.
For this recipe, you will need a 1 liter Mason jar and a food thermometer.
Ingredients
2 cups lactose-free milk
½ teaspoon nutmeg
½ teaspoon cinnamon
½ vanilla extract
6 egg yolks
½ cup sugar
1 cup lactose-free cream (10%, 18% or 35%)*
Directions
In a medium saucepan over low heat, combine the milk, nutmeg, cinnamon, and vanilla. Slowly bring the mixture to a low boil while mixing with a wooden spoon so it doesn't stick to the bottom.
In a large bowl, whisk the egg yolks with sugar until they become pale yellow.
Using a large spoon or ladle, slowly add the hot milk to the yolk mixture while continuing to mix. Be careful not to raise the temperature too quickly. Whisk until combined.
Pour the mixture back into the pot. Cook over medium-low heat while stirring. Once the mixture reaches 160F, quickly remove from heat so the egg yolks don't scramble. Pour the eggnog into a Mason jar and place in the fridge right away to cool. Keeps for 2-4 days in the fridge.
Serve with a sprinkle of nutmeg, or cinnamon (or whiskey).
From our low FODMAP kitchen to yours we hope you have a great holiday full of warmth, relaxation, and cheer!
Audrey