For people with IBS, the protein aisle can be pretty intimidating. There are certainly no shortage of bars to choose from, but finding one that has the right taste, texture, and complies with the low FODMAP diet can be tricky. To make matters worse, most bars have tons of ingredients and additives, making label reading a pain in the you-know-what. The following article aims to simplify this process by providing a number of great-tasting, low FODMAP protein bar options. Along the way, I'll also give you a list of common ingredients found in high FODMAP bars, so you can read labels with more confidence.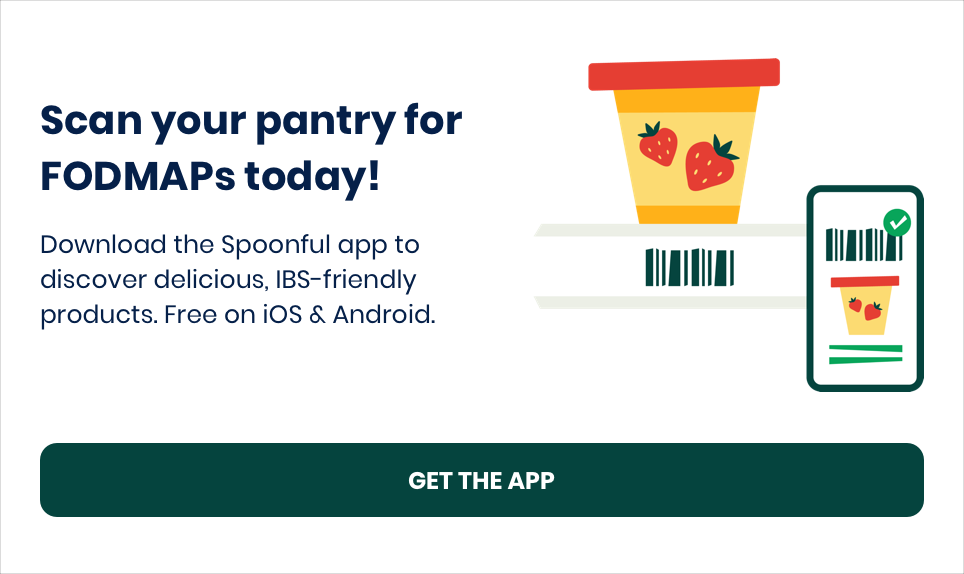 On a personal note…
Protein bars can easily be a high FODMAP bomb. I can recall several times in my life before I became FODMAP aware when I had to leave work due to severe gut issues after eating a low carb protein bar. In later years, I learned that sugar alcohols and inulin are major triggers, and I avoid both by all means to this day. Hopefully, this article saves you from suffering this same angst.
Protein Bar Benefits
Convenience
Protein bars are quick, portable, and convenient as they can easily be thrown in your purse, bag, car, or stowed away in your office drawer when hunger hits. They are a perfect on-the-go snack or mini meal.
Good Dose of Protein
Protein bars contain protein, an important macronutrient necessary to maintain lean muscle mass, maximize metabolism, and stave off hunger for several hours. It is important to consume a protein rich food at most meals to ensure adequate intake. I often encourage aiming for fifteen to thirty grams of protein per meal.
To calculate your protein needs, multiply your weight in kilograms by 0.8 grams.
For example, if you weigh 130 pounds (59 kilograms) your protein needs would be 47 grams of protein per day. Recent literature suggests those 65 years and older would benefit from closer to 1.0-1.2 grams of protein per kilogram of body weight to help ward of age-related sarcopenia.
Nutrient Dense
Protein bars deliver protein, carbohydrates, fat, and are often fortified with vitamins and minerals which may help fill in nutritional gaps – especially if the low FODMAP diet has reduced your overall food intake.
Good Fuel Source During Exercise
Protein bars that contain carbohydrates can give you an energy boost to help fuel a workout or help promote recovery post workout. Check out the energy bars listed below as these may be better options to fuel your body during exercise.
Downside of Protein Bars
Processed vs. Whole Foods
Protein bars will never take the place of whole foods. We can get many more vitamins, minerals, and phytochemicals from whole foods versus fortified protein bars. While protein bars contain protein, which can promote satiety, they are often low volume and this may not keep some of us full.
A low FODMAP serving of fruit plus a small portion of nuts or aged cheese may help some feel more satisfied than reaching for a bar.
Possibly High Sugar or Saturated Fat Content
Protein bars are sometimes glorified candy bars due to the high sugar and saturated fat intake. Best to look at the nutrition label if you are wanting to choose a more nutritious option.
Tip: 4.2 grams of sugar is equal to 1 teaspoon. This information may help you understand how much added sugar is present in your bar.
Cost
Ounce for ounce, protein rich foods are far less expensive than the majority of protein bars on the market. Good protein sources such as canned and drained chickpeas and lentils, aged cheese, chicken, eggs, and lactose free milk are all budget friendly high protein low FODMAP food options.
High FODMAP Ingredients
There are SO many ingredients in protein bars. It can feel like you need a nutrition degree to tell if the ingredients are high or low FODMAP. Protein bars often contain sugar alcohols as this helps to keep the carbohydrate content low, so be very careful with label reading. Whey protein concentrate is a common ingredient and this contains too much lactose, especially when added in large quantities. Be sure to use this article and the Spoonful App to help guide you.
Certified Low FODMAP Protein Bars
Carman's Dark Chocolate Espresso Nut Bars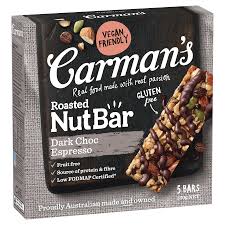 Enjoy Life Foods
Dark Raspberry Protein Bites
Dipped Banana Protein Bites
Sunseed Butter Protein Bites
Cinnamon Spice Protein Bites
FODY Foods
Almond Coconut Snack Bar
Blueberry Almond Snack Bar
Dark Chocolate Nuts & Sea Salt Bar
Peanut Butter Chocolate Quinoa Bar
GoMacro Bars
Peanut Butter Protein Replenishment
Sunflower Butter + Chocolate Protein Purity (Mini)
Coconut + Almond Butter + Chocolate Chips Everlasting Joy (Mini)
Dark Chocolate + Almonds Protein Decadence
Mocha Chocolate Chip Sweet Awakenings
Banana + Almond Butter Prolonged Power
Granola + Coconut Balanced Goodness
Maple Sea Salt Pure Promise Minis
Oatmeal Chocolate Chip Heart Warming Retreat Mini
Peanut Butter Chocolate Chip Protein Pleasure Mini
Double Chocolate + Peanut Butter Chips Mini Smooth Sanctuary
Oatmeal Chocolate Chip Cookie Kids Bar GoMacro Kids MacroBar
Double Chocolate Brownie Kid Bar GoMacro Kids MacroBar
Chocolate Chip Cookie Dough Kids Bar GoMacro Kids MacroBar
Peanut Butter Cup Kids Bar GoMacro Kids MacroBar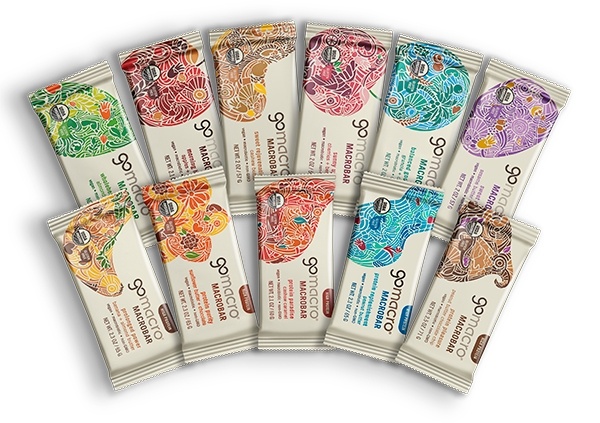 Rachel Pauls Happy Bars
Banana Chocolate Glee
Chocolate Chip Delight
Oatmeal Raisin Bliss
Orange Chocolate Ecstasy
Peanut Butter Euphoria
Peanut Butter Pleasure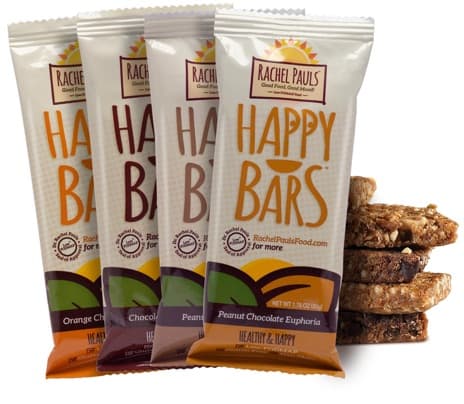 Stellar Labs Bars
Strawberry Cacao
Cacao Chip
Protein Bars that are Likely Low FODMAP
Based on clinical judgement, FODMAP trained dietitians like myself can help determine if a product is high or low FODMAP. However there really is no guarantee unless a product has been lab tested.
The challenge with protein and energy bars is that there may be potential for FODMAP stacking based on ingredients and portion sizes utilized in the recipe. It is best to test tolerance with likely low FODMAP bars when symptoms are well controlled. Feel free to start with a half bar and increase to a full serving as tolerated.
88 Acres
Dark Chocolate Sea Salt Bar
Cinnamon & Oats Seed Bars
Caveman Bars
Double Dark Chocolate Protein Bars
Chocolate Walnut Collagen Bars: These do contain raisins, however it is unlikely that these are present in quantities greater than 1 tablespoon since they are located towards the bottom of the ingredient list.
Cinnamon Raisin Grain Free Granola Bars: These do contain raisins, however it is unlikely that these are present in quantities greater than 1 tablespoon since they are located towards the bottom of the ingredient list.
Heath Warrior Pumpkin Seed Bars*
Chocolate Almond
Honey Sea Salt
Maple Sea Salt
*The honey falls within a low FODMAP serving size. The pumpkin seeds may be present in a portion a little larger than 2 tbsp, however this remains far from the large portion size that has excessive fructans.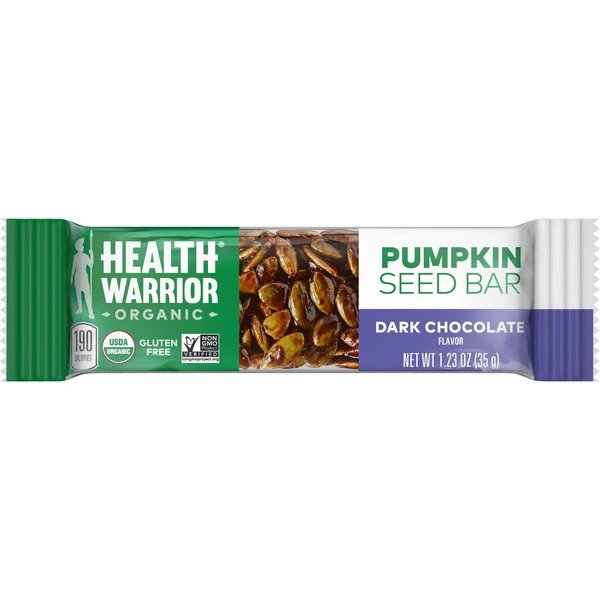 IBS Simple Bars
The Original
Chocolate Mint
Sweet Lemon
Dreamy Chocolate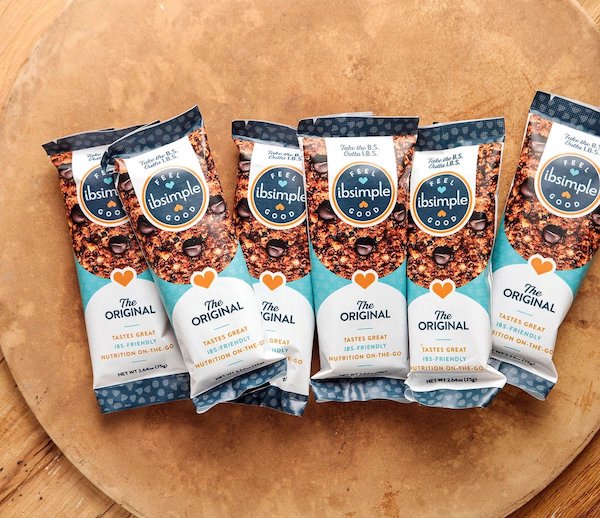 These bars are marketed as low FODMAP. While they do contain a small amount of date paste, the quantity falls under the low FODMAP serving size per personal communication with the company.
These bars are being reformulated to have a texture more similar to a baked cookie towards the new year. Stay tuned if you want to try their new recipe!
Simply Protein Crispy Bars
Dark Chocolate Salted Caramel
Lemon
Peanut Butter Chocolate
These contain soy protein isolate, which has not been tested by Monash but generally considered low FODMAP as this is a pure protein source.
Bonus: Low FODMAP Energy and Cereal Bars
I wanted to include some other popular bars that do not technically fall under the protein bar category as they are fairly low in protein and quite often higher in carbohydrates and sugar. Energy bars often contain dried fruits, grains, and other carbohydrate sources, which makes them perfect for snacks or fuel during exercise. Here are some low FODMAP examples:
Bobo's Oat Bars
Regular
Coconut
Lemon Poppy Seed
Banana Chocolate Chip
Peanut Butter
Almond Butter
Chocolate Almond
Chocolate cChip
Gingerbread
You may want to start with just half a bar per serving as they are rather filling and contain a fair amount of oats.
Nature Valley
Crunchy Peanut Butter
Pecan Crunch
Annie's Snack Bars*
Chewy Chocolate Chip
Peanut Butter Chocolate Chip
Do not choose the gluten free option as these contain inulin.
Common High FODMAP Ingredients found in Protein Bars
Agave – unless sugar content is 5 grams of less.
Amaranth – there is a low FODMAP serving size for puffed amaranth, however amaranth is considered high FODMAP.
Apple juice concentrate
Cashews – these are often found in many nut based bars.
Chicory root
Dates – only ⅓ of a date is low FODMAP. It is really hard to determine the quantity of dates in a bar based on the nutrition label.
Favaa beans
Fructooligosaccharide
Fructose
Fruit juice concentrates
Fruit juice pureés
High FODMAP fruits – apple, pears, mango, watermelon, peaches, nectarines, cherries, dates, figs, etc.
High fructose corn syrup
Honey – unless sugar content is 7 grams or less.
Inulin
Lactose
Maltitol
Milk protein
Milk protein concentrate
Nonfat dry milk
Oligosaccharides
Pistachios
Raisin juice concentrate
Raisin paste – raisins are low FODMAP at 1 tbsp, however one can not determine the quantity used based on nutrition facts alone. Best to avoid unless found in a certified low FODMAP bar.
Soybeans
Soy flour
Soy protein concentrate
Sugar Alcohols

Sorbitol
Mannitol
Xylitol
Maltitol
Isomalt
Erythritol – absorbed better in the small intestine than other sugar alcohol, however it has not been tested for FODMAP content and may trigger fructose malabsorption.

Whey
Whey protein concentrate
Ingredients to Approach with Caution
Pea Protein
Recent testing of pea protein brought mixed results when determining the FODMAP load. Unfortunately pea protein is no longer listed as low FODMAP per Monash. Many vegan protein bars contain pea protein in varying amounts. While small amounts are unlikely to cause IBS symptoms, some brands may pack a larger dose, which can result in IBS symptoms for some sensitive individuals. We are waiting for more Monash testing of pea protein for better guidance on how best to approach this protein.
Raisins and Craisins
Both of these dried fruits are low FODMAP in small servings. If found towards the end of the ingredient list, they are likely present in small portions. Best to avoid or test tolerance with a small portion if raisin paste is present.
Suggested Posts