Celiac disease is a lifelong digestive and immune disorder that affects the small intestine. Basically, when someone with celiac eats gluten, their body launches an autoimmune response. This autoimmune response damages the small intestine and can cause a cascade of other symptoms. Headaches, bloating, stomach pain, and endless fatigue are just some of the many common symptoms caused by celiac disease. As parents, you can help your child cope with celiac disease through special diet considerations with delicious meal substitutes.
The good news is that there are many tasty gluten-free alternatives you can prepare for your child's lunch to help them enjoy their food while avoiding gluten. We have rounded up an assortment of ideas for a nutritious gluten-free lunch for kids to satisfy your child's tastebuds.
#1 Grilled Cheese Sandwich
Grilled cheese sandwiches are easy to prepare and a delicious lunch staple for school children across generations. In fact, the history of these grilled marvels goes way back to the 1920s, when Otto Frederick Rodwedder, touted as the father of sliced bread, invented the bread-slicing machine that made it fuss-free to cut loaves into presentable servings.
Consider swapping out regular loaves with gluten-free white bread for a delicious alternative. The delightful product contains 5g of dietary fiber to help keep your kid full and encourage regular bathroom habits.
#2 Plantain Chips
While many potato chips are gluten-free, overlook plantain/banana chips as a delicious and wholesome alternative. Your kid will find plantain chips with sea salt un-put-down-able after tasting a piece. The sea salt enhances the natural plantain flavor and they are topped with fragrant coconut oil.
A healthy garlicky guacamole dip will serve as the perfect accompaniment to these chips, giving your kids a uniquely enjoyable snack to get through the school day.
#3 Pretzel with Assorted Dips
Speaking of dips, gluten-free sea salt pretzels are savory and crunchy treats that would instantly bring joy to any kid. Consider experimenting with various homemade dips to add variety to the snacking experience. Hummus, French onion, and honey mustard are just three of many fantastic dip options that will go well with the timelessly tasty finger food. Just be sure you're verifying these dips are gluten-free (our app can help).
#4 Farfalle Harvest Bowl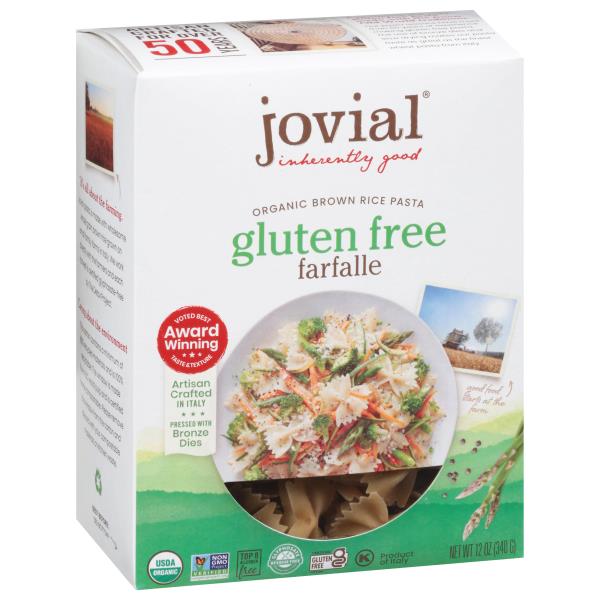 Farfalle, AKA butterfly pasta, is one of the prettiest designs ever to embellish a lunch plate or brown bag. This gluten-free brown rice farfalle is a great source of gluten-free whole grains which tend to be overlooked on a gluten-free diet.
Meatless dishes like a farfalle harvest bowl containing diced tomatoes, squash, and chillis provide a delicious meal packed with a wide range of vitamins to get your child through a busy school day.
#5 Amazing Asparagus
Asparagus is a highly nutritious ingredient that you can conveniently incorporate into your child's diet. The asparagus spears that accompany your kid's meal contain vitamins A, C, and K, even improving digestion, which is a huge health benefit when dealing with the symptoms of celiac disease. What about mixing the asparagus with gluten-free pasta, crushed garlic, and olive oil for a hearty meal?
#6 Instant Oatmeal for a Quick Hunger Fix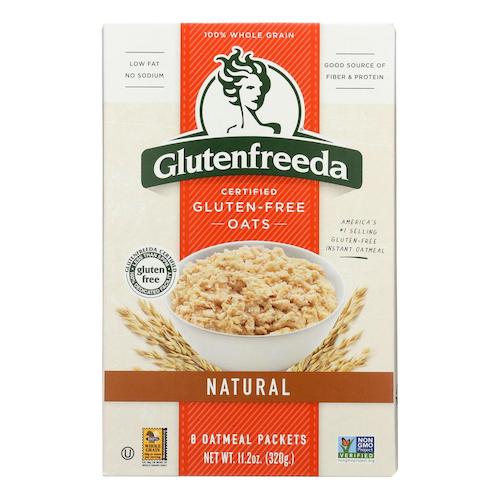 We understand that sometimes as parents, you might lack the luxury of time to prepare a lavish gluten-free lunch. For such situations, instant oatmeal from Glutenfreeda will help you stave off your child's hunger pangs in no time.
Add half a cup of oats, a cup of water, a pinch of salt, and microwave-heat the preparation for about two minutes, and it's ready for consumption! Small servings of strawberries, almonds, and apricots will dial up the flavor for a delightful meal in a pinch.
Editor's note: When it comes to oatmeal, make sure the label says "gluten-free oats" or the product is gluten-free certified. Oats are extremely prone to cross-contact, so even if the label says "gluten-free", you'll want to add in these extra checks.
#7 The Not-So-Classic Pancake
Stacked pancakes are always popular among kids and there are gluten-free alternatives so your child can enjoy the timeless meal staple without worry. Fruity fillings like strawberries, blueberries, and bananas are delightful ways to sweeten the lunch experience with rich vitamins while sprucing up your child's lunch box with assorted colors.
#8 Gluten-Free Soup for the Soul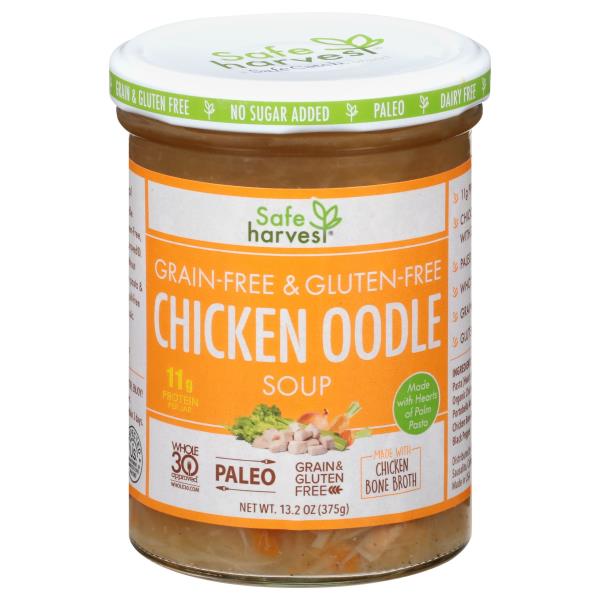 Your kid might crave a simple warm soupy meal on gloomy days. On such days, gluten-free chicken soup will provide your child with an appetizing meal enriched with an organic chicken broth flavored with portobello mushroom, onions, and carrots.
Serve the soup with gluten-free panini rolls to provide the ultimate comfort meal to chase the blues away.
#9 Chicken Nuggets
Chicken nuggets offer a delicious source of protein for your kids, easily paired with gluten-free sliders and pasta for a wholesome meal. These chicken nuggets come encrusted with delightful cornflake crumbs cooked in canola oil that transform into a golden crisp when sizzled on a pan.
#10 That's a Wrap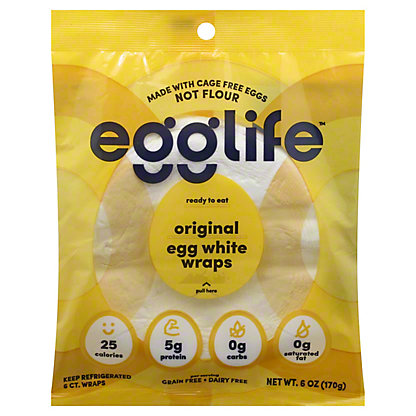 Egg White Wraps give you an endless variety of recipe options when preparing a gluten-free lunch for kids. From chicken salad filling to avocado roll-ups, these mildly tangy wraps will become a go-to favorite for your child.
Our list only shows the tip of the iceberg when it comes to preparing a gluten-free lunch for kids. There are many other delicious meal options awaiting discovery. You might surprise yourself!
Reviewed by Tayler Silfverduk, RD