Have you recently started the low FODMAP diet and are running out of breakfast options?
If you're in the first phase of the low FODMAP diet, now is the time to eliminate certain foods. Later, you can reintroduce restricted foods to develop a personalized plan. If you're feeling slightly overwhelmed, this list will help guide you along your journey. 
For example, a low FODMAP breakfast diet restricts the serving size of certain carbohydrates, but that doesn't mean you can't get creative in the morning. Start your day off right with these six low FODMAP breakfast ideas. 
1. Cereal 
Few foods represent "breakfast" quite like cereal — but when adhering to the low FODMAP breakfast diet, where do you even begin?
Some rules of thumb include avoiding cereals made with large quantities of rye, barley, and wheat. Instead, seek out cereals made with buckwheat, rice, quinoa, corn, millet, and tapioca.
Be mindful of additives, such as honey, high-fructose corn syrup, and sugar-free alternatives. Your choice of milk also matters. Opt for almond, macadamia, quinoa, rice, or lactose-free milk over traditional cow's milk. 
Most cold breakfast cereals are not FODMAP friendly. However, seven Kellogg's cereals are certified by Monash University. You can also find good options made by small companies, including our absolute favorite – goodMix Blend 11 – Low FODMAP Certified Cereal. Then there's the tried and true classics like Corn Chex, Rice Chex, and various Cheerios products.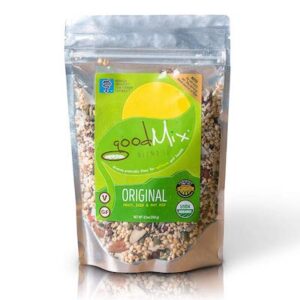 If you enjoy oatmeal, Bob's Red Mill Gluten-Free Oatmeal with Flax and Chia is a great choice. Just be sure to keep the serving size to 1/2 oats.
Click here to browse a complete list of low FODMAP cereals.
2. Grab-and-Go Low FODMAP Breakfast Items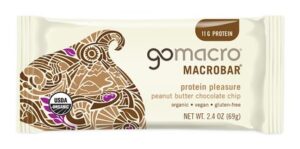 If you're often in a hurry, here are some great grab-and-go options.
Bars

— Look for (and avoid) similar ingredients discussed above concerning cereal. Brands like

GoMacro

and FODY Foods

offer a selection of certified low FODMAP bars. Some

Bobo's

bars are also a great low FODMAP option. If you're in a pinch at a gas station or convenience store, w

idely available low FODMAP bars include

Nature Valley Peanut Butter Crunch

 and 

Kashi granola bars

, including their Dark Mocha Almond and Chocolate Almond Sea Salt bars. 

Browse the full selection of low FODMAP bars 

here

. 

Fruit

— All fruits contain fructose, a common FODMAP, but some are more friendly than others. The best options include unripe bananas, kiwi, blueberries, oranges, pineapple, and papaya

Granola

 — If you're really in a hurry, you can always pack a bag of low FODMAP granola to snack on, like 

Organic Sprouted Oat Granola made by One Degree

. Again, adhere to a 1/2 cup serving size for oats.
3. Eggs, Greens, and Potatoes
The website funwithoutfodmaps.com has many great recipe ideas, including this "My Go-To Low FODMAP Breakfast" recipe. All of the ingredients either contain minimal FODMAPs or are FODMAP-free. Think of this breakfast as a potato and greens scramble, made with eggs, leafy greens, roasted potatoes, and low FODMAP breakfast sausage. Find the recipe here. 
If you love eggs, there are plenty of recipes available:
Are you looking for a healthy vegan scramble that still has plenty of flavor? Try this Scrambled Tofu recipe or Za'atar Spiced Low FODMAP Tofu Scramble.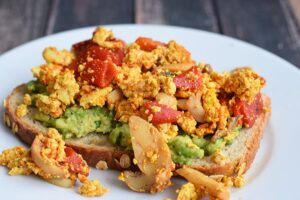 All of these are quick and easy recipes. However, if you want to speed the process up in the morning, prep all your ingredients the night before. 
4. Muffins
When you bake your own muffins, the low FODMAP options are nearly endless. Best of all, the oven does most of the work. Prep time is only around ten minutes.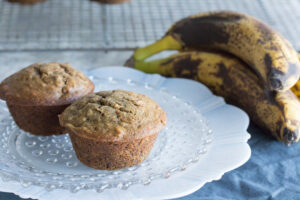 For example, this delicious Glorious Morning Muffins recipe calls for gluten-free and buckwheat flour, maple syrup, grated carrot, pecans, pineapple, banana, cinnamon, and other simple ingredients. These vegan low FODMAP blueberry muffins are another great choice.
If you're searching for a muffin mix, Krusteaz Gluten-Free Cinnamon Swirl Muffin Mix is a winner. 
5. Pancakes
More of a pancake fan? You don't need to forget about this beloved breakfast food. The key is knowing what ingredients to use. Like muffins, there are plenty of options. You can enjoy pancakes every Sunday for months without making the same recipe twice. A fan favorite is Oat and Banana Pancakes — a recipe approved by Monash. 
More of a fluffy pancake lover? This gluten-free, low FODMAP Fluffy Pancake recipe is what you seek, and if you want to switch things up, you have to try this Low FODMAP Vegan Strawberry Waffles recipe. 
6. Smoothies
Again, the sky is the limit with smoothies — but you'll need to be aware of FODMAP stacking. This involves eating too many green light or low FODMAP foods at one sitting. While this may result in IBS symptoms for some sensitive individuals, it is something we may only consider if you are having poor response to the diet as a whole.
This in mind, don't make a smoothie solely out of fruit, even if each fruit is low FODMAP at a typical serving. Instead, incorporate vegetables (e.g., leafy greens, cucumber, and carrot), low FODMAP milk (almond, quinoa, rice, macadamia or lactose-free), and other healthy ingredients like flax or chia seeds. Bob's Red Mill Whole Ground Flaxseed Meal is an easy addition. 
Read more: Chia Seeds: Versatile Low FODMAP Fiber Source 
A low FODMAP diet may seem restrictive, but as you can tell from the list above, there are so many options — and these are just some to get you started. Whether you're looking for low FODMAP pizza ideas, low FODMAP ice cream advice, or need a guide to low FODMAP bread, Spoonful has resources and product suggestions to guide you every step of the way.
What's your favorite low FODMAP breakfast idea? Let us know in the comments below!