Whether you're just starting out or you're a seasoned low FODMAP pro, it's always nice to add some variety to your diet. And with food brands finally starting to manufacture products for IBS, I'm excited to share with you a number of great-tasting, new low FODMAP products that have been instant additions to my pantry in recent weeks.
This list contains new low FODMAP products from small, indie food brands all the way up to large, well-known manufacturers. The majority of these foods can be purchased directly online, and some may even be found at your local grocer.
While there are several certified low FODMAP brands to choose from, they can be a little more costly. That's why I chose to think outside the box for this post in order to give you new options that you may not have tried before.
New to FODMAPs? Check out our Ultimate Low FODMAP Food List – compiled by our team of registered dietitians from around the world.
As many of us know, finding a low FODMAP granola can be downright painful (both literally and figuratively). Many granolas are excessive in honey or agave and often contain too much dried fruit or that sneaky ingredient, chicory root. Still want the crunch? Check out these two new granolas by Early Bird.
Just pair with your favorite low FODMAP yogurt and ¼ cup of a low FODMAP berry for a quick, satisfying breakfast.
Need a break from GoMacro bars? Try JUNKLESS, a new granola bar made in Portage, Michigan. Here's what you won't find on a JUNKLESS label.
NO high fructose corn syrup
NO hydrogenated oils
NO artificial flavors, colors and preservatives
NO GMOs
NO trans fat
After looking at the labels further, I found that the Real Chocolate Chip, Real Chocolate Chip Peanut Butter, Cinnamon Roll, and Real Strawberry varieties are all low FODMAP! These chewy granola bars make for a perfect low FODMAP snack for kids and adults alike.
Just the Cheese is a new snack brand on the market made from 100% Wisconsin Cheese. If you're looking for a low FODMAP snack, check out the Grilled Cheese, Aged Cheese, Mild Cheese and Jalapeño Cheese varieties. You may also want to check out the Mini Packs in Wisconsin Cheddar, White Cheddar, Jalapeño Cheese, and Grilled Cheese.
Just avoid the Garlic and Chive as this flavor is high FODMAP due to the garlic. These bars and mini packs make for the perfect snack when craving something crunchy, salty, and of course cheesy. They are low carb, high protein, and gluten free to boot!
Looking for a new low FODMAP product you can find in your local grocer? Enter Chobani Oat, the latest non-dairy concoction to hit supermarkets.
Vanilla, Strawberry Vanilla, and Blueberry Pomegranate are low FODMAP at ½ cup serving size. Note that pea protein is present in a quantity less than 2%, which is unlikely to trigger an IBS symptom. Pea protein FODMAP content has been in question as of late. Previous test results indicated that it was low FODMAP, however recent testings reflect mixed results. It is nice to see the non-dairy yogurts expanding, oat milk is quite the trend!
Cece's is pretty new on the scene, and I'm really digging their spiralized noodles. While it isn't super hard to spiralize your own vegetables, it is super convenient to buy them already prepared. As a dietitian, I am always looking for easy ways to boost vegetable intake for my clients, and this new low FODMAP product does gthe trick!
Cece's Veggies Co has done a great job making it super easy and yummy to give your body a boost of vitamins, minerals, and fiber. Another bonus is that these are low in calories and carbohydrates. To keep it low FODMAP, stick with these vegetables and portion sizes:
"The Waffle" is seriously the BEST waffle mix ever! Just add eggs, oil, lactose-free milk (or your favorite low FODMAP milk alternative) and vanilla extract if desired. I have never had any success finding a low FODMAP frozen waffle at the grocery store, so I like to make a double batch and freeze the extras for a quick breakfast when the waffle craving hits.
Josie's Best also offers The Pancake, The Muffin, and The Crepe – all equally delicious and serious crowd pleasers. They are gluten free (though many are surprised by this as they do not taste gluten-free) and free of the top 8 food allergens. It's an swap for vegans with a non-dairy low FODMAP milk alternative and egg replacers.
Most jerkies and beef snacks are prepared with garlic or onion, making them tough on your gut. Fortunately, Kalahari Snacks Biltong is not your average dried beef brand. I recommend trying the Original, Peri Peri, or Chili Lime varieties if you need new low FODMAP product that is rich, tasty, and filling.
Reviewers describe Kalahari's Biltong as a unique cross between jerky, slow-roasted beef, and fine Italian prosciutto. These are air dried, which means they contain no added fat, gluten or sugar. Be sure to also check out the Kalahari Crips in Original which offers a nice crunch and pairs well with your favorite low FODMAP dip.
Heads up Lactaid and Beckon! There's a new lactose-free ice cream in town. Re:THINK is made from A2 lactose-free milk and is low in sugar. Upon personal communications with the company, the agave nectar is present at 5 grams per ½ cup serving, which means many of Re:THINK's ice creams can be labeled low FODMAP. Here are the low FODMAP flavors you may want to try:
Almond with Coconut Flakes
Chocolate Majesty
Chocolate Orange with Almond Butter
Coffee Hazelnut
Lemon with Poppyseed
Mint with Chocolate Flakes
Strawberry with Chia Seeds
Turmeric Ginger
Vanilla Supreme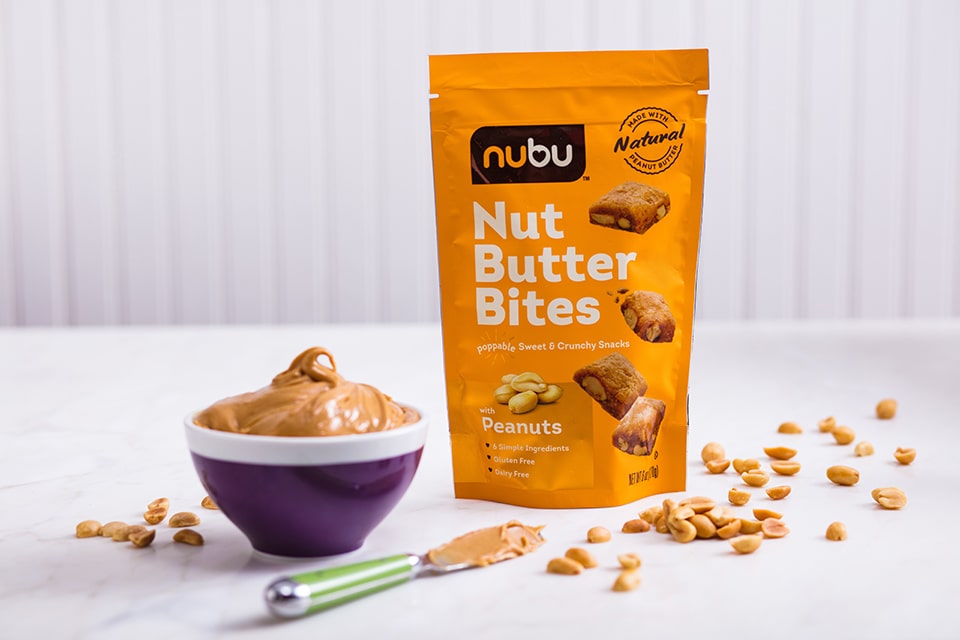 Nubu Nut Butter Bites with Peanuts and Nubu Nut Butter Bites with Pecans are two new low FODMAP snacks on the market. They are sweet, crunchy, and both gluten and dairy free. As a peanut butter lover, I think these are a MUST try.
This innovative "eat your veggies" brand offers several delicious low FODMAP muffins. Yep, you read that correctly. They make muffins out of veggies.
The majority of their new low FODMAP products are made from a combination of zucchini, carrot, banana, oats, sugar, egg whites, a few different gluten-free grains, and a little sugar. What a fun, tasty way to sneak in some vegetables for yourself and your family!
Look for these in the freezer section at major grocery stores. These flavors appear low FODMAP based on the serving size and my nutritional label knowledge. Limit yourself to one muffin or cake per serving to keep the FODMAPs such as zucchini and bananas in appropriate portion sizes.
Banana Chocolate Chip Muffins
Double Chocolate
Ninja Power
Lemon Chia
Cranberry Orange
The Butternut Squash Veggie Cakes
Know more delicious new low FODMAP products?
Let us know in the comments for a chance to be featured in this post. We'd love to hear from you!
Reader Submissions
Cado Vanilla Bean Avocodo Frozen Dessert is divine! Perfect with some lofo nuts and semi-sweet chocolate chips. Ingredients: Water, Avocado Oil, Organic Cane Sugar, Tapioca Starch, Vanilla Bean Paste, Sea Salt, Organic Guar Gum, Organic Gum Acacia.

-Lorraine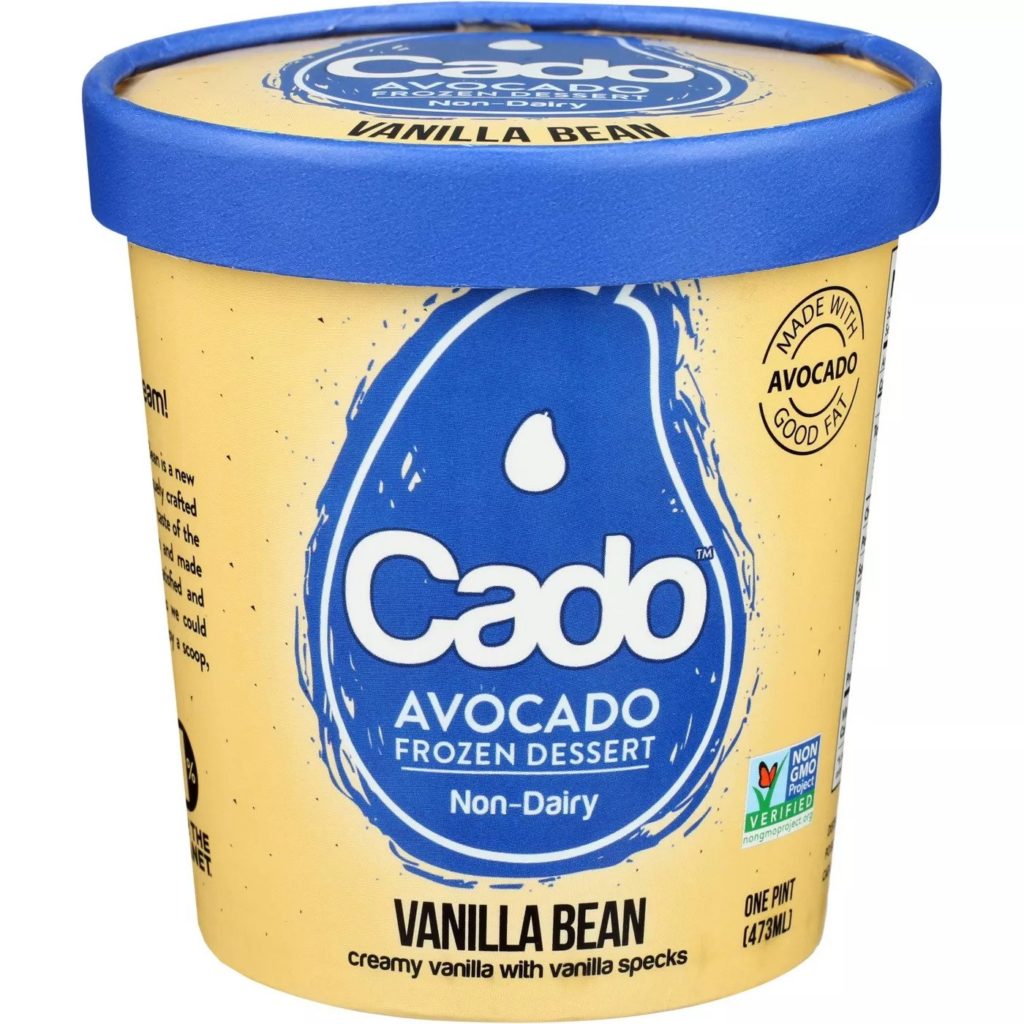 I love the Sunflower Seed Butters by Sunbutter!=

-Kyle