These past few weeks, the Spoonful team has been working on a number of data-related tasks to make our scanner as consistent and accurate as possible. We've taken in a lot of your feedback (keep it coming!), and are excited to announce the next set of data improvements.
Allergens
In this update, we've added some logic that reduces the likelihood of ingredients being marked in allergen statements. This means we will NOT flag wheat, milk, soy, almonds, and other allergens when they are contained in the following statements:
Contains: [ingredient]
Manufactured in a facility that processes: [ingredient]
May contain traces of [ingredient]
If you see an ingredient that is still being flagged within an allergen statement, please report it so we can take a look.
Contains 2% or Less
Unlike many eat-this-not-that diets, the low FODMAP diet does not deal in absolutes. This means that nearly every ingredient listed after a "Contains 2% of Less" statement is present in a small enough quantity to be considered low FODMAP.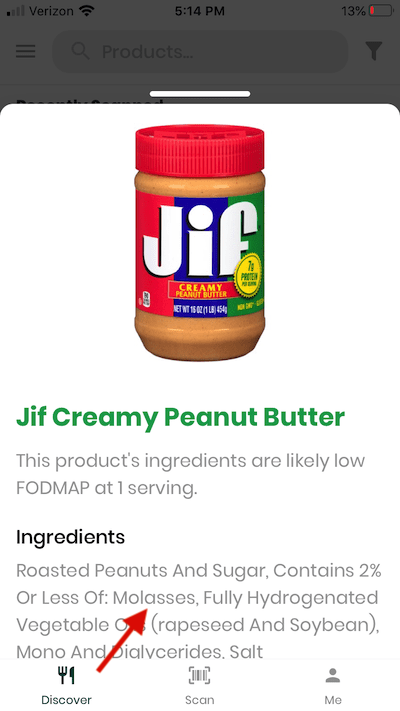 In this update, we added logic to reflect this reality for all moderate and high FODMAP ingredients – except for garlic, inulin, chicory, and onion. These ingredients are not considered low FODMAP, even when present in quantities of 2% or less.
Parentheses
When reporting a product, many of you correctly noted that ingredients like "soybean" and "corn" should not be marked in statements like "Vegetable Oil (Soybean, Corn, and Palm)".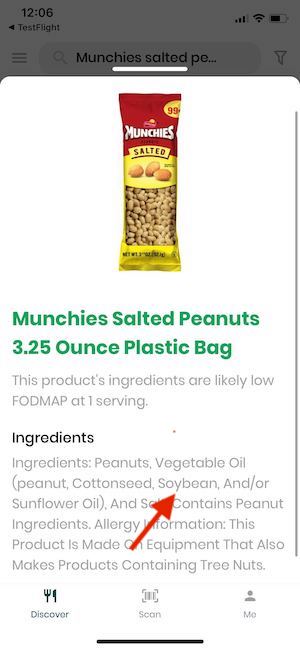 In this update, we have added logic to reduce the number of these occurrences, particularly as they relate to oils, extracts, and starches. If you see something that still doesn't look right, be sure to flag it, so we can take a look.
Other Updates: Corn Tortillas, Miso Paste, and More
Per usual, we made a number of smaller changes that impact a particular ingredient or product type. Here's a quick look at those as well.
Corn Tortillas: Many of these products were being marked yellow due to corn. Going forward, we've added a rule to mark these green as both ground corn and corn flour are considered low FODMAP. Note: you only need to worry about corn the vegetable – canned corn, corn on the cob, and so on.
Miso Paste: We made many of these products green even thought they contain soybeans. Most miso pastes are suitable in a normal serving size.
Soy Protein Concentrate: We now flag this ingredient as it contains high levels of fructans and galactans.
Barley Malt Flour: Based on a consensus dietitian review, we've changed this ingredient from yellow to red.
Thank You!
Again, we sincerely thank everyone who has helped improve our data by flagging products in the app. If you see something that doesn't look right, please let us know so we can review and fix it.
If you'd like to know more about how the scanner works and how we estimate FODMAPs, check out How Spoonful Determines the FODMAP Content of a Product.