As a dietitian, I often have clients describe salads as boring and unsatisfying. Though I understand where they're coming from, I could not disagree more! Many of us just haven't been exposed to super yummy salads, nor are we familiar with how to create one that fits our palate. That's why I want to spend some time talking through how I make a delicious, low FODMAP salad with variety, balance and, most importantly, crunch!
New to FODMAPs? Check out our Ultimate Low FODMAP Food List – compiled by our team of registered dietitians from around the world.
Salads and IBS
As many of you know, salads are a nutritious powerhouse chock full of antioxidants, healthy fats, and lean proteins. They are also a great source of fiber, a nutrient that is essential to gut health whether you have IBS-C, IBS- D, or IBS-M. Fiber not only helps you stay regular, but it also helps bind stool. This can work magic for those who battle more with the looser side of things.
For further reading, check out my article, Fiber and IBS: What You Need to Know. It will give you more information on fiber and how it can help manage your IBS symptoms.
Low FODMAP Salad Essentials
The core ingredients in my salad are greens, fruit, nuts, and cheese (using low FODMAP fruits and nuts of course). This combination seems to win almost everyone over. I am often given the fun job of salad maker with my family and friends and this combination is definitely my go to.
Greens: Your Go-To Base
While iceberg lettuce is certainly low FODMAP, there are so many other greens to choose from. Many of the darker greens contain more antioxidants, minerals, and fiber which helps us stay fuller longer.
These greens have no FODMAPs detected so pile them on!
Butter Lettuce
Endive Leaves
Red Coral
Romaine
Spinach, English
These greens only have trace amounts of FODMAPs so pile them on within reason.
Arugula or Rocket Lettuce
Iceberg
Kale
Radicchio Lettuce
Spinach, baby
Swiss Chard
Tip: massaging your kale (I know, I know) can help soften it and release some of the bitterness. Just massage the kale with a little olive oil and salt, then rinse it to remove the bitter compounds.
Vegetables: Colorful Toppers
Adding a few veggies will add a lot more flavor and texture. To give your salad eye appeal, think the rainbow when choosing your vegetables.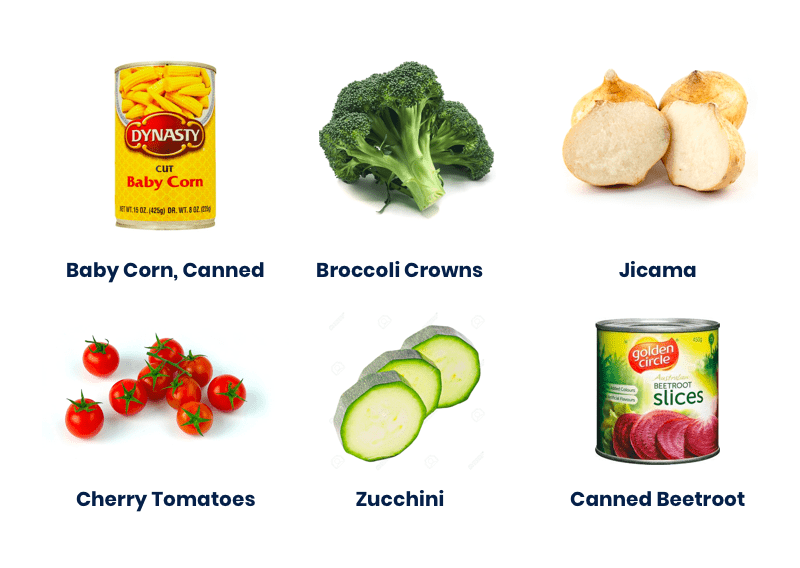 To keep your FODMAP bucket in check, pay attention to the portion sizes for certain veggies. Monash states that you can eat reasonable servings of green light foods at one sitting, so adjust intake based on your appetite and comfort level. Here is a longer list of FODMAP-friendly vegetables.
Baby corn, canned
Bok choy
Broccoli crowns
Canned artichoke hearts
Canned beets
Celery*
Cherry tomato
Chinese cabbage
Common cabbage
Cucumber
Fennel bulb*
Green peas, canned and drained*
Green peas, thawed*
Hearts of palm
Jicama
Kohlrabi
Leek leaves*
Red cabbage
Savoy cabbage
Sweet corn*
Tomato
Water chestnuts
Zucchini*
*Check the Monash app for appropriate serving sizes on these veggies, or read our article on Low FODMAP Portions.
Feel free to be heavy handed with these vegetables as they contain either no or only trace amounts of FODMAPs!
Bean sprouts
Carrots
Red bell peppers
Olives
Cucumbers
Roasted Vegetables: consider adding roasted vegetables like parsnips, turnips, carrots, sweet potatoes, kabocha squash/pumpkin, and broccoli to your salad.
Grilled Vegetables: time to fire up that grill and throw on some sliced zucchini, yellow squash, and eggplant. Or maybe you can grill up some cabbage steaks, radicchio, or romaine lettuce. Just slice in thick chunks, drizzle with a little olive oil, and toss directly on the grill for 4-8 minutes per side.
Tip: make a big batch of vegetables so you can use leftovers for your salads over the next few days.
Grains: A Filling Mix-in
To make your salad really satisfying, add in your favorite grain or experiment with a new one. My go-to's include quinoa, sweet potatoes, roasted white or purple potatoes, sorghum, and brown or black rice. Again, it's a good idea to bulk cook some grains or potatoes, so you can easily toss them in your salad.
Tip: If you prefer a warmer salad, heat up your grains separately before adding them in.
Fruits: Sweet Accoutrements
Fruit is my secret weapon in salad making. This little bit of sweet really makes your salad pop with flavor. Watch your portions though! I recommend limiting yourself to only one low FODMAP fruit to keep a lid on that FODMAP bucket.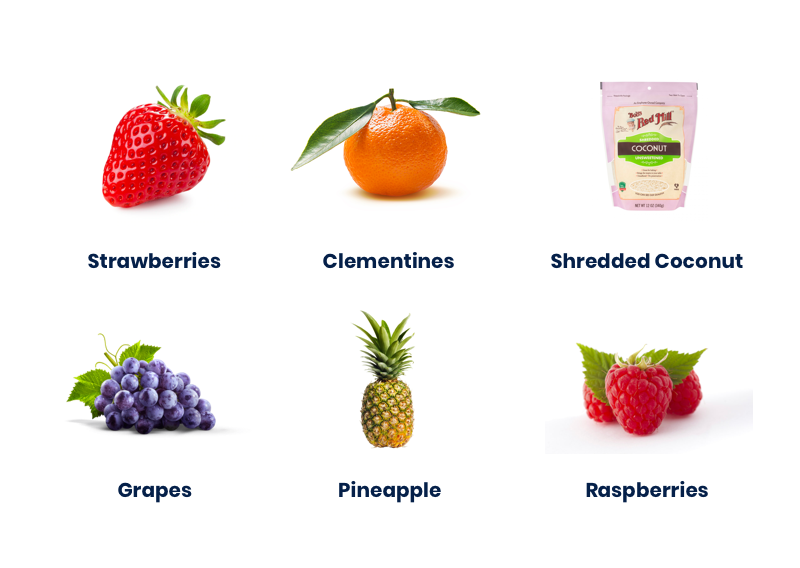 Here is a longer list of low FODMAP fruits that pair well with salads:
Blueberries*
Cantaloupe
Clementines
Coconut or shredded dried coconut*
Craisins or Raisins, or Currants*
Grapes
Kumquats
Mandarin oranges
Oranges
Papaya
Pineapple
Pomegranate seeds
Raspberries
Strawberries
*Check the Monash app for appropriate serving sizes on these fruits.
Which fruits should you leave out? Learn that and more by reading our list of the Top 50 FODMAP Ingredients found in packaged foods.
Adding the CRUNCH
Now it's time to add the crunch with some nuts or seeds. Choose one serving of a low FODMAP nut or seed.
Almonds* are super versatile. Try purchasing sliced or slivered almonds for easy salad toppings.
Hazelnuts* – try roasting in a dry skillet for even more flavor.
Hemp Seeds are an easy way to make your salad a superfood salad as they provide protein and healthy fat.
Macadamias – these pair well with tropical fruits such as papaya, pineapple, and shredded coconut.
Peanuts pair well in many Asian-themed salads.
Pine Nuts can be added raw or try roasting in a dry skillet for more flavor.
Pumpkin and Pepita Seeds are mild in taste and pair well with most salads.
Sesame Seeds can be tossed into your as the finishing step for a little crunch.
Sunflower Seeds are inexpensive and flavorful especially if you opt for the roasted variety.
Walnuts and Pecans – crushed or pieces make salad prep a breeze.
*Check the Monash app for appropriate serving sizes.
Tip: store nuts in your refrigerator or freezer to keep them fresher longer.
Packing on the Protein
Still hungry? Add a serving of protein if you plan on making your salad more of a meal. It can really help keep you feeling full and satisfied longer.
Some of my favorite quick protein sources are:
¼ cup canned and drained chickpeas
½ cup canned and strained lentils
¼ cup drained and canned black beans
¼ cup boiled green or red lentils
Marinated tofu (baked, firm)
Tempeh
Hard boiled eggs
Chicken or turkey
Bacon
Salmon or tuna
Lactose-free cottage cheese
Toss with a Low FODMAP Salad Dressing
Dressings can be tricky as many prepared products contain garlic, onion, and even high fructose corn syrup. Many homemade salad recipes also use garlic and onion recipes. However, these can be easily modified using garlic-infused oil and the tips of a green onion. If you are looking for already prepared salad dressings, you may want to check out these low FODMAP certified options.
Here are a few salad dressings that appear low FODMAP after reviewing the food label: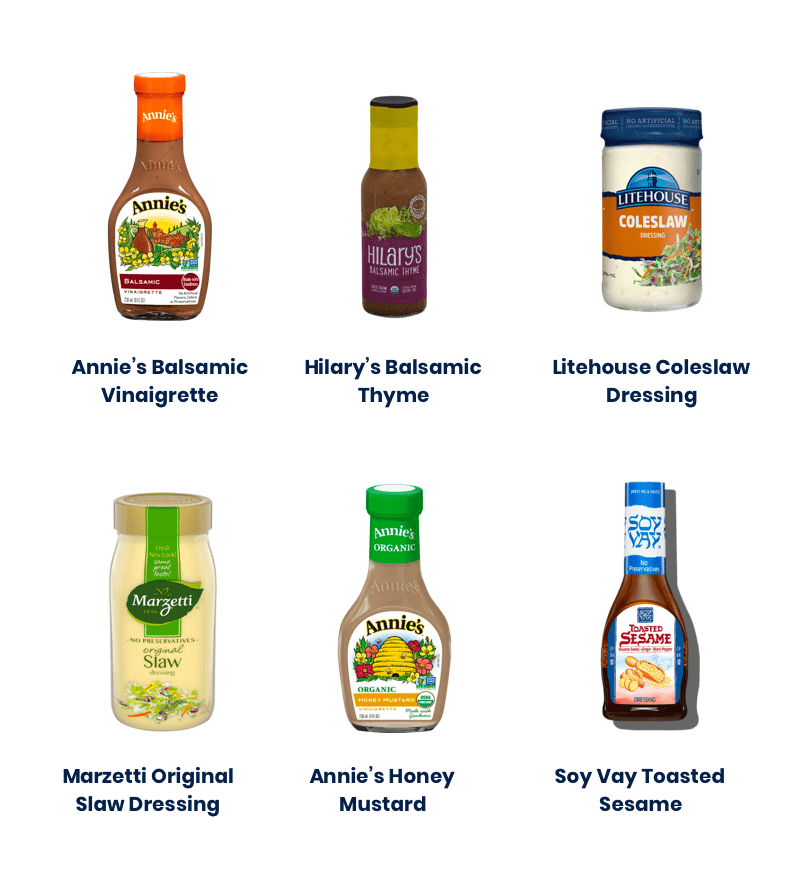 Check out the Spoonful app for more. Just search "dressing" and discover what products are given the green light.
Tip: honey is compliant in small servings. If the added sugar is 7 grams of less, then it falls within a low FODMAP serving size.
Another simple option is to make your own. Oil and vinegar is as basic as you can get, and of course, it is also low FODMAP. Here are some low FODMAP salad dressing ideas from Kate Scarlata, RDN.
More Mix-ins
Herbs add a bit of pizzazz to your salad. Basil, chives, cilantro, mint, parsley, tarragon, and dill can really compliment your salad creation. Not sure which herbs go with what? Check out this handy herb pairing chart.
Roasted Chickpeas – make your own using canned and drained chickpeas. Here is a simple recipe to try. These store well in a mason jar for a quick add-in.
Homemade Sourdough Croutons – my friend gave me a clever idea of freezing leftover sourdough ends. After I collect them for a while, I defrost, add olive oil, salt, and rosemary. I then bake them up until they are nice and crispy.
Savory Granola. Casa de Sante offers a few savory granola options that add a lot of flavor and crunch.
Our Favorite Low FODMAP Salad Combinations
Arugula + strawberries + feta + almond slices + quinoa + basil
Romaine + black olives + feta + cucumber + garbanzo beans + tomato + thyme
Butter lettuce + ½ serving papaya + ½ serving pineapple + 2 tablespoon dried coconut + macadamia nuts
Grilled romaine heart halves + cherry tomatoes + parmesan cheese + oregano
Leaf lettuce + sliced oranges + walnuts + gorgonzola cheese + mint
Spinach + hazelnuts + craisins + goat cheese +
Leaf lettuce + jicama + drained black beans + manchego cheese + cilantro
Kale + craisin + pecans + goat cheese + homemade sourdough croutons
I hope this article gets your creative salad making juices flowing. Do you have any favorite low FODMAP salad recipes to share? Share your thoughts in the comments below!