Summer is finally in full swing, and nothing beats the heat like a frozen treat. If you struggle with IBS, finding a go-to ice cream can be tricky since most varieties are high in lactose. As a FODMAP trained dietitian, grocery store curator, and IBS sufferer myself, I'm excited to share my favorite low FODMAP ice cream flavors, toppers and cones. After reading, I'm confident that you'll be able to make whatever frozen concoction your heart desires — and manage symptoms while doing it!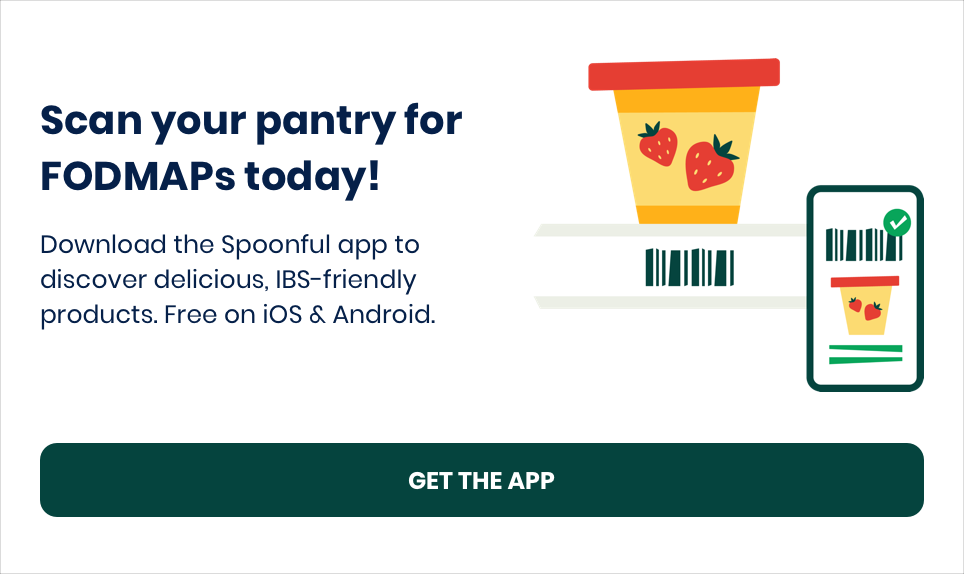 Ice Cream: An Inconvenient FODMAP Truth
Sadly, many traditional ice creams are high FODMAP — the cream and milk really push the lactose load. On average, 1/2 cup of ice cream contains 6 grams of lactose, which is significantly greater than the 1 gram allowance given by Monash.
On average, 1/2 cup of ice cream contains 6 grams of lactose.
While it's true you can't enjoy traditional ice cream on the low FODMAP diet, there are plenty of delicious alternatives.The ice cream aisle has exploded in recent years with an array of frozen desserts including lactose free ice cream, frozen yogurt, sherbets, and dozens of non-dairy frozen treats made from almond, coconut, cashew, soy, pea protein, and more. There are also super high calorie, indulgent options and low calorie frozen treats. Honestly, there is an ice cream for everyone.
Can Ice Cream Be Healthy?
Eh. Ice cream is not really considered a "health" food, however it is something that everyone can enjoy in moderation. Ice cream can make you feel happy since we produce more of those feel-good brain hormones when we indulge in it. Lactose free ice cream contains calcium, Vitamin D, Vitamin A, phosphorus, and riboflavin, however this is not often true for the non-dairy frozen desserts options.
Low FODMAP Ice Cream
Lactose Free Ice Cream Brands
Lactose free ice creams are low FODMAP, because they are treated with a lactase enzyme at the time of processing. The enzyme breaks down all lactose, resulting in a 100% lactose free food. Here are a few companies that offer lactose free ice cream. They taste just like regular ice cream and will be enjoyed by everyone, low FODMAP or not.
Beckon Lactose Free Ice Cream
Beckon has become somewhat of a low FODMAP staple of late, with an awesome selection of FODMAP free ice creams that rival traditional brands. Made with milk and cream (and lactase enzyme), these frozen treats taste just like the real thing.. minus the stomach problems.
Lactaid Lactose Free Ice Cream
Founded in 1974, Lactaid is what many consider the "original lactose free ice cream". Lactaid is available in nearly all major US grocery chains, so you should have no problems finding that perfect scoop.
Breyer's Lactose Free
Ice cream giant, Breyer's, has also come out with their version of a lactose free ice cream. Free free to give the vanilla or chocolate flavors a go the next step you're at the supermarket.
Pierre's Lactose Free Ice Cream
Known for making creamy, premium ice creams, Pierre's is a somewhat newer addition to the lactose free scene. If you're craving a little extra decadence this summer, be sure to give this brand a shot.
Re:THINK Ice Cream
Unlike other lactose free brands, Re:THINK makes their ice cream from A2 lactose free milk. Upon personal communications with the company, the agave nectar is present at 5 grams per ½ cup serving, which means many Re:THINK flavors are low FODMAP!
Almondmilk Ice Cream Alternatives
Almondmilk based ice creams have not been tested by Monash, but are likely low FODMAP at 1/2 cup.
Almonds can be high or low FODMAP based on serving size, so it would be a good idea to practice portion control. Most FODMAPers report positive responses to almondmilk based frozen desserts. Here are my top picks:
365 Almondmilk Non-Dairy Frozen Dessert
Sold exclusively at Whole Foods, 365 has come out with their version of a non-dairy frozen treat made from almondmilk. this one's my favorite: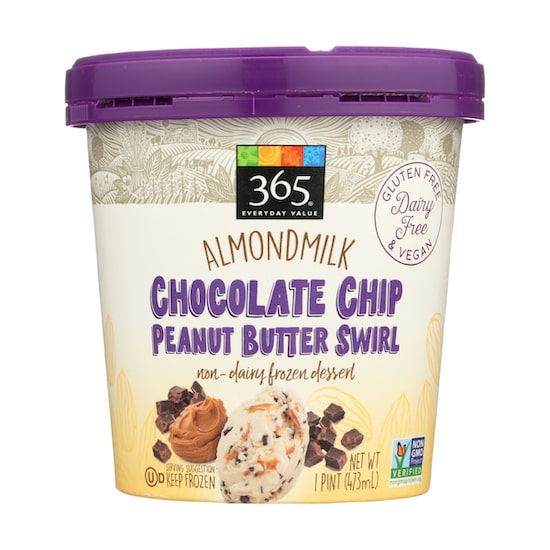 DiNoci Dairy Free Frozen Dessert
This brand uses all natural, GMO free, simple ingredients without any synthetic coloring. These are plant based frozen desserts made from almond milk and sweetened with low FODMAP cane sugar and dextrose. Check out these yummy flavors:
Coconutmilk Ice Cream Alternatives
These non-dairy ice creams are rich and creamy due to the higher fat content of coconuts. Though coconut ice cream has not been tested by Monash, the main ingredient, coconutmilk, is low FODMAP. This said, I recommend trying these varieties out at 1/2 cup.
So Delicious Coconut Frozen Desserts
So Delicious offers a wide variety of coconut-based low FODMAP frozen desserts to choose from.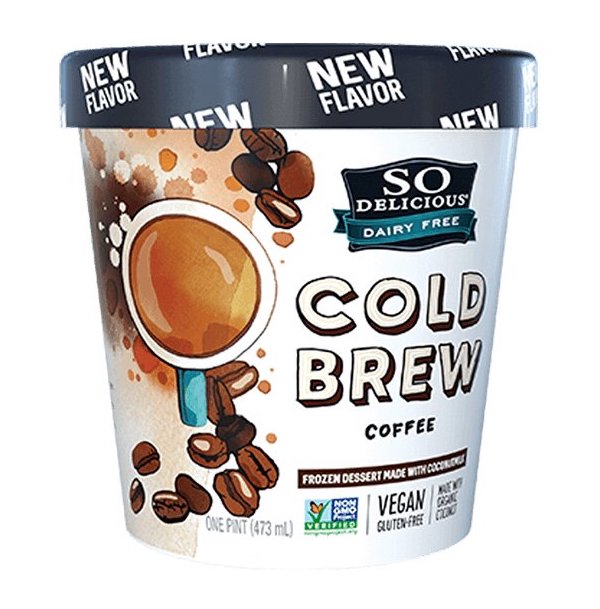 Chocolate Peanut Butter Swirl
Coconut Macaroon
Cold Brew Coffee
Mint Chip
Mocha Almond Fudge
Ohh So Strawberry
Vanilla Bean
Tip: Avoid the So Delicious "No Sugar Added" products as they contain chicory root extract. This is high FODMAP.
Oatmilk Ice Cream Alternatives
Like coconut, oat based frozen desserts have not been tested by Monash, however they are likely low FODMAP at ½ cup, since oat milk the main ingredient is low FODMAP.
Oatly!
These oat-based frozen desserts are some of my favorites. They are super creamy always a crowd pleaser.
Planet Oat
This oatmilk brand recently launched a delicious selection of low FODMAP ice creams as well.
Sorbet
Unlike like ice cream or gelato, sorbet (also called sorbetto) is always dairy and egg free. Though not as creamy as traditional ice cream, sorbet offers a crisp, refreshing taste that leaves you with a smile on your face.
Talenti
Talenti makes some pretty amazing sorbets that are easy to find at most grocery stores. Here are a few of my favorite flavors, which are conveniently low FODMAP.
Peanut Butter Fudge
Roman Raspberry
Cold Brew Coffee
Dark Chocolate
Want more low FODMAP dairy lists? Check out our articles on milk, yogurt, and cheese!
Ice Creams & Frozen Desserts to Approach with Caution
FairLife
Made with lactose free milk and sweetened with allulose (low FODMAP sweetener), FairLife Light Ice Cream is new on the market. The ingredient of concern is monk fruit as it has not been tested by Monash therefore it is hard to be 100% certain. This is definitely an ice cream worth a trial as many low FODMAPers have had good experience with monk fruit. These alternative sweeteners help reduce the added sugar and calorie content of this ice cream. Here are the flavors worth trying if you want to give it a whirl.
Vanilla
Chocolate
Mint Chip
Java Chip
Chocolate Peanut Butter.
Ice Creams with Pea Protein
Recent testing of pea protein brought mixed results when determining the FODMAP load. Unfortunately, pea protein is no longer listed as low FODMAP per Monash. Many of the non-dairy frozen desserts contain only a few grams at most of pea protein which is very unlikely to cause IBS symptoms, especially if you are sticking to a 1/2 cup serving size.
Based on my clinical experience, this is not an ingredient that must be avoided. Just approach with caution, especially if you are having difficulty with symptom control.
Cashewmilk Ice Cream Alternatives
Cashews are considered high FODMAP at a reasonable serving size, however there is a brand of cashew milk (the main ingredient in cashew based frozen desserts) that tested low FODMAP.
So Delicious offers a variety of cashew milk based frozen desserts that may be low FODMAP in small servings. If desired, start with a small portion to test tolerance, and increase to a full serving as needed.
Ice Creams & Frozen Desserts to Avoid
Traditional Ice Cream
As noted above, traditional ice cream made from milk and cream is high FODMAP due to the lactose content.
Soymilk Ice Cream
Soymilk based ice cream has not been tested by Monash, however it is most likely high FODMAP and best to avoid. Soy milk made from soy protein is low FODMAP, however the majority of US-based soy ice creams are derived from soybeans making them high in galactans.
Avocado Based Frozen Desserts
Interestingly enough, there is actually a frozen dessert made from avocado puree. This would be high FODMAP, since it is way too easy to exceed the low FODMAP serving size of avocado with this product.
If you see "avocado oil" listed as an ingredient instead of "avocado puree", this product is likely low FODMAP.
Common High FODMAP Ice Cream Ingredients
Quite often, high FODMAP ingredients are added to dairy and non-dairy frozen desserts. When reading the label, avoid frozen desserts containing the following ingredients:
Agave (unless sugar content is 5 grams of less)
Chicory root or chicory root extract
Erythritol – this sugar alcohol is better absorbed than the others, however it may trigger IBS symptoms in some.
Faba beans
Fructose
Fruit juice concentrate (apple, pear, etc)
Fruit juice purees
Fruits such as peaches, mango, apple, pear, cherry, etc.
High FODMAP nuts – cashews and pistachios
High Fructose Corn Syrup
Honey (unless sugar content is 7 grams or less)
Inulin
Milk – unless lactase enzymes are present
Soybeans
Sugar Alcohols such as isomalt, sorbitol, xylitol, maltitol, and mannitol
Wheat flour – while there are some wheat based products that are low FODMAP, it is probably best to avoid this ingredient since it is very hard to determine portion size.
Whey and Whey protein concentrate (unless label states suitable for lactose intolerance).
No need to avoid frozen desserts containing fruit and vegetable juice added for color since they are added in only very small portions. This is not enough to trigger any IBS symptoms.
Want more label reading tips? Here you go.
Bonus! Low FODMAP Ice Cream Toppers & Cones
Toppers
Hershey's Simply 5 Syrup
Nestle Nesquik Chocolate Syrup
Nestle Nesquik Strawberry Syrup
Smuckers Magic Shell Chocolate
Fresh Strawberries, Blueberries, or Raspberries
Chocolate Chips
Banana Slices
Cones
Let's Do…Gluten Free Sugar Cones Rolled Style and Ice Cream Cones Cake Style are low FODMAP and gluten free.
Keebler Ice Cream Cones are made with wheat flour, however they only provide 4 grams of wheat which is very unlikely to cause an IBS symptoms. In general, be sure to reach for a basic ice cream cone. The sugar and waffle cones contain significantly more wheat and are probably best to avoid.
What's Your Favorite Gut Friendly Ice Cream?
I hope this article helps you find your new favorite low FODMAP ice cream! If you have a chance, please tell us your favorite brands and flavors in the comments below.