Finding a low FODMAP cereal can be a bit overwhelming as there are literally hundreds of options to choose from. Cereal products are often made from processed grains like wheat, oats, rice, and corn, which can be high or low FODMAP depending on portion size, processing, and of course, added ingredients.
In this article, I focus on cold cereals, granola, and hot cereals to appeal to all cereal lovers. As a FODMAP trained dietitian and low FODMAP product detective, let me help improve your label reading skills, while finding your new favorite breakfast treat. All to save you time and energy the next time you hit the cereal aisle.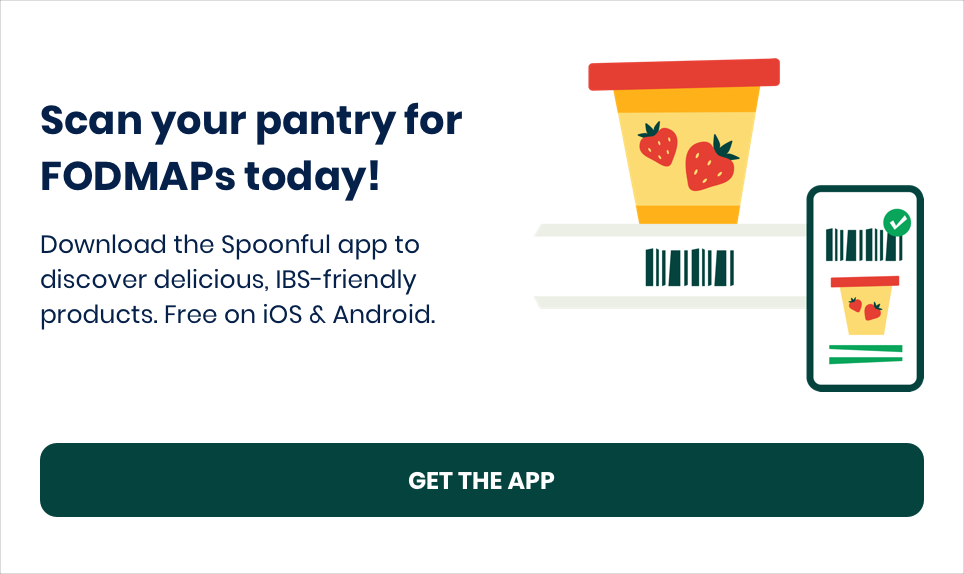 Health Benefits of Cereal
Many cereals contain whole grains, which serve as a good source of fiber. Those who eat cereal in the morning are more likely to hit their daily fiber goal of 25-35 grams per day. Unfortunately, many of the high fiber, wheat-based cereals are high FODMAP (think Raisin Bran, All Bran, Shredded Wheat, and Bran Flakes).
While there are small portions of wheat-based foods allowed on the low FODMAP diet, many wheat-based cold cereals are high FODMAP when consumed in normal portion sizes. It is best to opt for corn (including cornmeal), oat, rice, or quinoa-based cereals since these grains are low FODMAP.
Tip: If you're looking for a fiber boost, oat-based cereals will probably be your best option.
Many cereals are also fortified with extra vitamins and minerals including iron, folate, B6, B12 and others. Combine this with your favorite low FODMAP milk alternative or lactose free milk to start your day off with a nutrient dense breakfast.
Added Sugars
Many cereals are packed with several teaspoons of added sugar. While sugar is not a high FODMAP ingredient, many other sweeteners such as honey or agave can be added in portions that push it out of the low FODMAP range. Watch out for high fructose corn syrup and fructose on the ingredient list as well.
Cow's Milk
Cold cereal is often paired with cow's milk, which is high FODMAP due to the lactose content. I highly suggest the simple swap of lactose free milk for a very similar taste. Feel free to use a low FODMAP milk alternative if desired as there are plenty of non-dairy options available.
Certified Low FODMAP Cereals
Kellogg's (Worldwide)
There are eight US based cereals from Kellogg's that are certified low FODMAP at a serving size of one cup. These popular cereals are easy to find at your local grocery store.

Kellogg's Cocoa Krispies
Kellogg's Corn Flakes
Kellogg's Crispix
Kellogg's Frosted Flakes.
Kellogg's Frosted Krispies
Kellogg's Rice Krispies (serving size is 1.5 cups)
Kellogg's Special K Original
Kellogg's Strawberry Rice Krispies
Carman's (Australia)
Carman's Fine Foods is one of the few companies offering a low FODMAP muesli (found in Australia).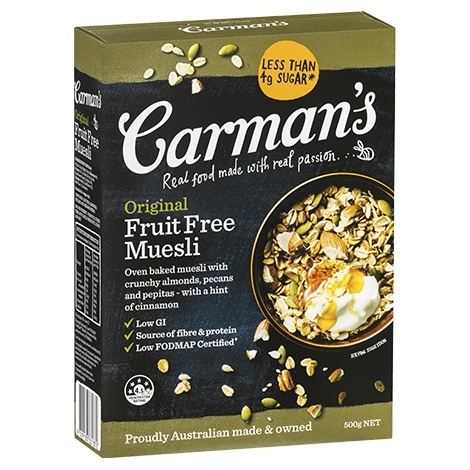 Carman's Crispy Deluxe Almond and Maple Gluten Free Muesli
Carman's Original Fruit Free Muesli
Carman's Super Berry Cranberry, Blueberry, and Goji Muesli
Table of Plenty Balance + Muesli Fruit Free (found in Australia)
Freedom Foods (Australia)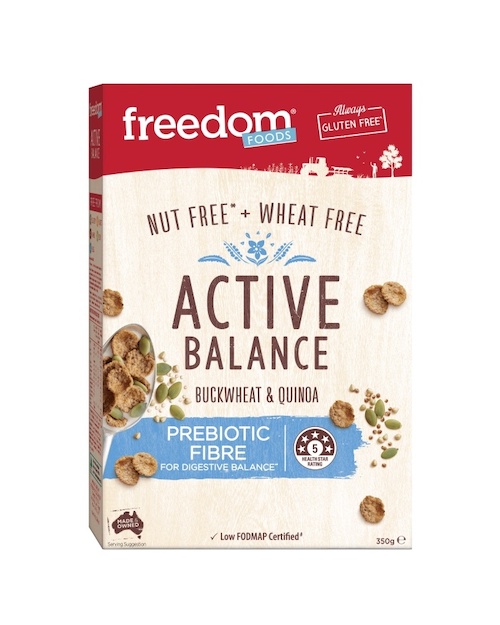 Active Balance Buckwheat & Quinoa
Active Balance Multigrain & Cranberry
Maple Crunch Wholegrain with Sorghum
Rice Puffs
Sanitarium (Australia)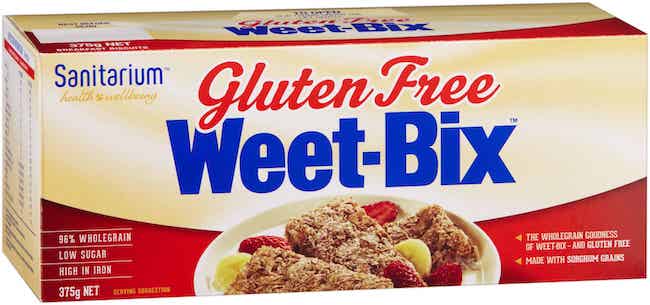 Weet-Bix Gluten Free
Weet-Bix Gluten Free Coconut and Cinnamon
GoodMix (USA)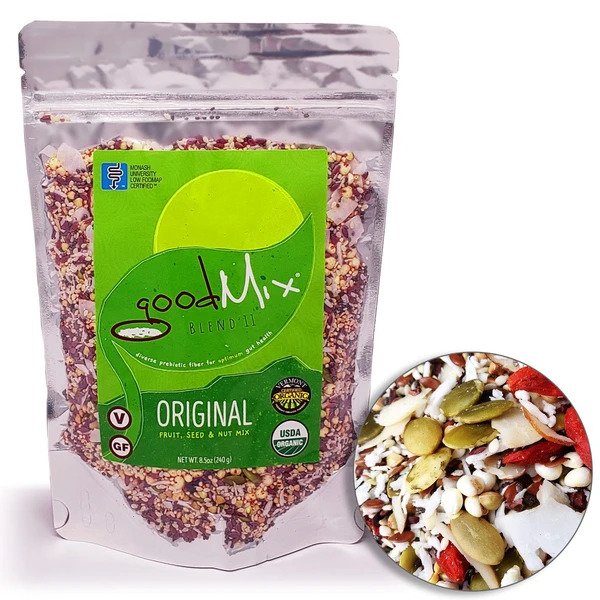 GoodMix Superfoods Blend 11 is a breakfast mix rich in superfoods such as chia, flax, buckwheat, cacao nibs and more that pairs well with most hot and cold cereals, yogurts, smoothies and more.
Non-Certified Low FODMAP Cereals
The below products are all low FODMAP at a serving size of 1 cup. Many of these products are only found in the US, but some brands like General Mills, Quaker, and Kellogg's can be found in grocery stores worldwide.
Annie's Homegrown Organic Cocoa Bunnies Cereal
Annie's Organic Cocoa Bunnies
Arrowhead Organic Maple Buckwheat Flakes Gluten Free
Arrowhead Puffed Rice Cereal
Back to the Roots Organic Stoneground Flakes and Organic Purple Corn Flakes
Barbara's Puffins Peanut Butter & Chocolate or Peanut Butter
Cheerios- Regular, Multigrain, Chocolate, and Cinnamon
Environkidz Lightly Frosted Amazon Flakes, Cinnamon Jungle Munch, Panda Puffs, Leapin" Lemurs, and Gorilla Munch
Erewhon Gluten Free Corn Flakes, Crispy Brown Rice, and Honey Rice Twice Cereal
General Mills – Corn Chex, Chocolate Chex, Cinnamon Chex, Peanut Butter Chex, Rice Chex, and Vanilla Chex
General Mills Kix
Kellogg's Corn Pops
Mom's Best Crispy Cinnamon Rice and Crispy Cocoa Rice
Nature's Path Rice Puffs, Crispy Rice, Honey'd Corn Flakes Cereal
One Degree Organic Foods Sprouted Brown Rice Crisps and Cacao
Peace Cereal Maple Pecan Clusters and Flakes
Peace Cereal Vanilla Almond Clusters & Flakes
Post Fruity Pebbles
Quaker Cap'N Crunch
Trader Joe's Joe's O's Toasted Whole Grain Oats Cereal
Trader Joe's Organic Corn Flakes
Low FODMAP Hot Cereals
For those looking for something hot, there are several options on the market. The majority of these products are packed with fiber and contain very little or no added sugar. These hot cereals are easy to prepare as well. Just add water, lactose free milk, or your favorite low FODMAP dairy alternative.
Ancient Harvest Quinoa Flakes
Arrowhead Gluten Free Rice and Shine Hot Cereal and Puffed Corn
Bob's Red Mill Mighty Tasty Hot Cereal
Bob's Red Mill White Corn Grits
Nabisco Cream of Rice or Instant Cream of Rice Gluten Free
Eden Organic Brown Rice Flakes Hot Cereal
Pocono Cream of Buckwheat
Bob's Red Mill Corn Grits and Organic Brown Rice Farina Hot Cereal, High Fiber Oat Bran, Organic Creamy Buckwheat Hot Cereal
Want to be product agnostic? You've got plenty of low FODMAP grains to choose from.
Rolled Oats
Steel Cut Oats
Instant oats- ¼ cup serving size (watch out for individual serving packs as they often contain more than 23 grams – this pushes one out of the low FODMAP serving size)
Oat bran
Rice bran
Oat groats
Buckwheat groats
Grits – unflavored
Hot Cereal Toppers
I would also recommend adding a bit of sweet by topping your cereal with a low FODMAP fruit. Try any of these options with unripe banana, up to ten strawberries, a heaping ¼ cup of blueberries, or a handful of raspberries.
If you really want to sweeten it up, opt for one of these sugar alternatives:
Stevia – avoid those containing, inulin, chicory root or erythritol
Sucralose
Aspartame
Saccharin
Unfortunately, monk fruit has not been tested, therefore FODMAP content is unknown. Best to test tolerance when symptoms are under good control before using this sweetener.
Low FODMAP Granola
In general, it's best to limit granola to a serving size of 1/4 cup to keep it at a low FODMAP.
Bakery on Main Organic Happy Granola Sprouted Maple Quinoa
Bear Naked Vanilla Almond Granola
Bob's Red Mill Homestyle Coconut Spice Granola
Bob's Red Mill Homestyle Maple Sea Salt Pan-Baked Granola
Casa De Sante Granola- Oat Free Granola Golden Turmeric
Casa De Sante Granola – Artisan Savory Tuscan Herb and Indian Spicy Hot
Early Bird CHOC-A-DOODLE-DOO Granola
Early Bird Kiss My Oats Granola
Marge Original, Blueberry Almond Flax, and Hazelnut Cacao Nibs Granola
Nature Valley Granola Crunch Cinnamon and Maple Brown Sugar
Nature's Best Love Crunch Double Chocolate Crunch
Nature's Path Hemp Hearts Granola
Nature's Path Organic Chia Plus Coconut Chia Granola
Nature's Path Pumpkin Seed & Flax Granola
Nature's Path Vanilla Almond & Flax Granola
One Degree Sprouted Oat Cinnamon Flax Granola
One Degree Sprouted Oat Quinoa Cacao Granola
One Degree Sprouted Oat Vanilla Chia Granola
Purely Elizabeth Original Ancient Grains Granola- Blueberry Hemp, Original, Cranberry Pecan, and Pumpkin Cinnamon, and Maple Almond Nut Butter.
Trader Joe's Pecan Praline Granola
Enjoy your granola with your favorite lactose free milk or milk alternative or combine with a low FODMAP yogurt.
Quick Word About Muesli
Unfortunately, I have never spotted a low FODMAP muesli on the grocery stores shelves. Many muesli cereals contain high FODMAP dried fruits and too much honey. There are a few certified low FODMAP Muesli options in Australia or you can make your own. Here is an awesome low FODMAP muesli recipe from Alana Scott of A Little Bit Yummy.
Label Reading Advice for Cereals
If you come across any of the following ingredients on a product label, I recommend putting that cereal back on the shelf.
Tip: Tired of reading labels? Get instant feedback on the FODMAP content of products with the Spoonful mobile app
Moderate and High FODMAP Cereal Additives
Agave nectar in excess of 5 grams
Apple juice concentrates
Cashews
Chicory Root
Dates
Fructooligosaccharides (FOS)
Fructose
Fruit juice concentrates or purees
Golden syrup in excess of 7 grams
High FODMAP dried fruit*
Honey in excess of 7 grams
Inulin
Pear Juice Concentrate
Pistachios
Soy Flakes
Sugar Alcohols – mannitol, sorbitol, lactitol, maltitol, isomalt, xylitol, and erythritol*
*Small portions of dried craisin or raisins sweetened with sugar are low FODMAP in small servings.
*Dried blueberries have not been tested for FODMAP content, however there is a certified low FODMAP bar that contains dried blueberries. Best to approach this dried fruit with caution when symptoms are under good control.
Moderate and High FODMAP Cereal Grains & Flours
Amaranth
Barley
Bean Based Flours
Black Beans and Black Bean Flours
Chickpeas and Chickpea Flours
Faba Beans and Faba Bean Flours
Navy Beans and Navy Bean Flours
Einkorn
Hard Red Wheat
Rye
Spelt
Triticale
Wheat
Wheat berries
Wheat bran
Whole wheat
Molasses, Barley Malt, & Natural Flavors
Often I spot molasses, barley malt, and malt extract on the ingredient list. These ingredients are unlikely to cause issues since they are added in very small portions. Likewise, "natural flavors" in cereals are commonplace and do not need to be avoided. Natural flavors are more of concern in savory foods where they may contain onion or garlic.
We hope that this comprehensive cereal list gives you plenty of new options to choose from! Remember that you can also use the search option on the Spoonful app to find low FODMAP cereal options. Happy shopping!