Let's face it. It's 2020, and we might need to pour ourselves a stiff one from time to time. My patients often wonder if they can even have alcohol, since the low FODMAP diet already limits grains like barley, rye, and wheat. Luckily, you CAN have a drink or two and still be compliant. In fact, there are lots of great low FODMAP alcohols to choose from across wine, beer, seltzer, and spirits.
Just keep in mind that alcohol is a gastrointestinal irritant and can trigger IBS symptoms in sensitive individuals even when it's considered low FODMAP. Complaints of abdominal pain, bloating, diarrhea, and a sense of bowel urgency occur more often after drinking alcohol. Furthermore, alcohol can increase gastric acid in the stomach and negatively affect your gut bacteria.
A note about alcohol food labels
One of the challenges in shopping for alcohol is the lack of information food labels provide. In the US, wine and other alcohols often do NOT contain ingredient lists as the FDA does not require them to do so. This stems from a law enacted after the Prohibition era many years ago in which alcohol falls under the Alcohol and Tobacco Tax and Trade Bureau, which does not require nutrition labeling.
This little (okay BIG) obstacle makes it quite tricky to discover low FODMAP alcohols. However with a lot of digging, I've put together a guide for you to discover and enjoy a low FODMAP adult beverage stress free. Cheers!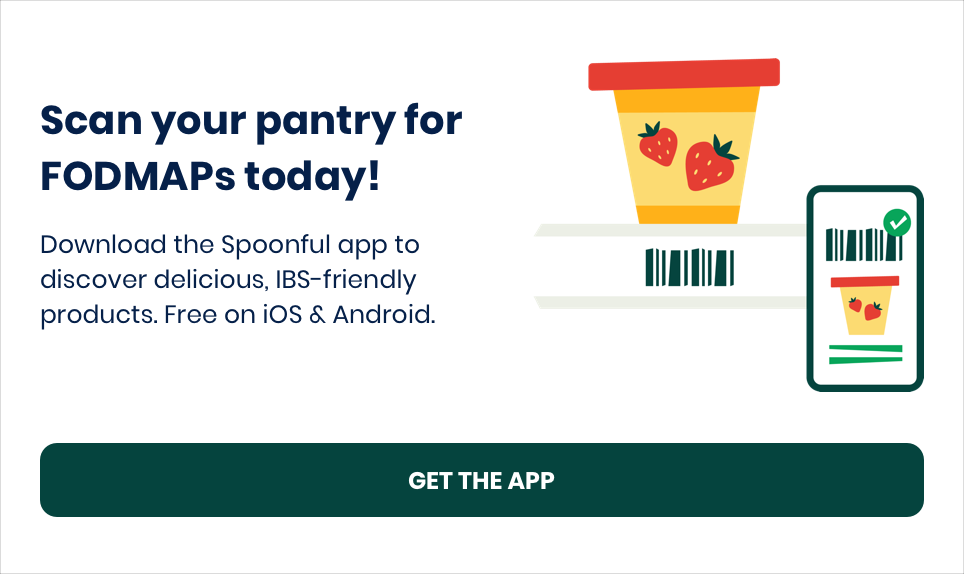 Beer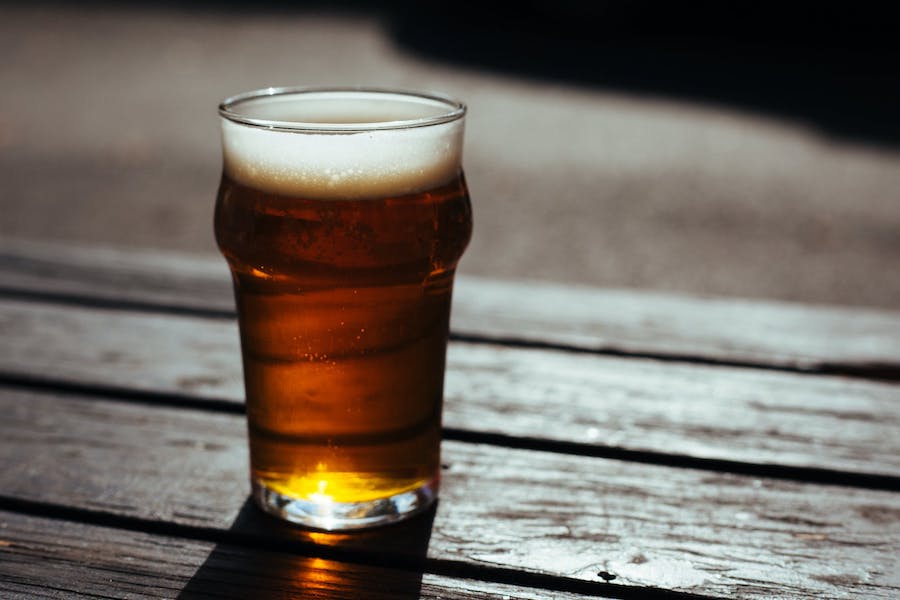 Beer received the green light by Monash at a serving size of 12 ounces (~350mL) or one bottle. While beer does contain gluten making it not suitable for someone with Celiac, it is low in fructans, the high FODMAP carbohydrate source. Feel free to enjoy this beverage in moderation, however use caution if you are sensitive to carbonation.
Spirits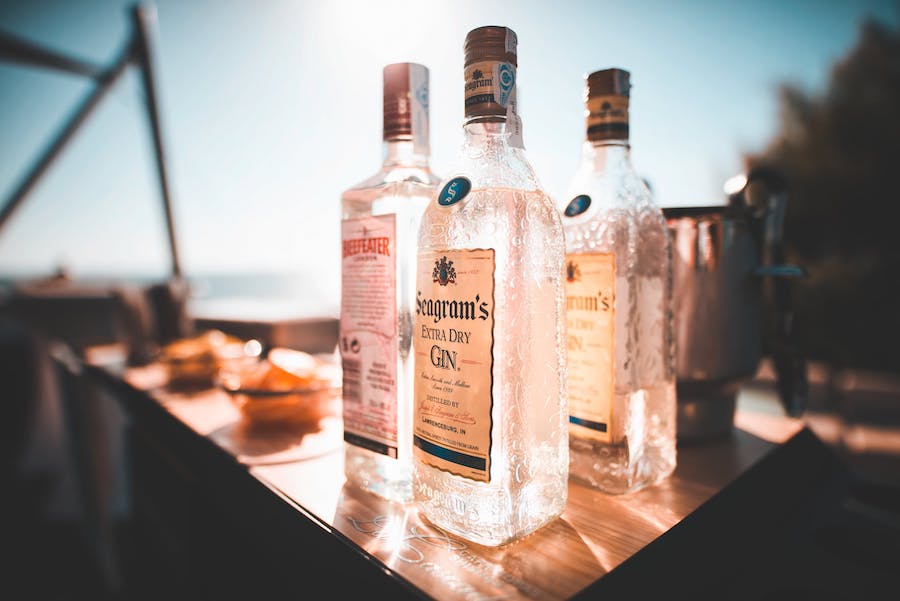 Monash has tested several spirits and low FODMAP options include gin, vodka, and whiskey. Rum is the only spirit that is high in FODMAPs due to a high fructose load. Watch your portions, and measure your spirit of choice with a shot glass. It is very easy to exceed the recommended portion size of one ounce.
Tequila has not been tested by Monash, but my clinical judgement would be that it is low FODMAP due to the distilling process. While it's made from agave, it does not contain the carbohydrates that make it high in fructose. Best to test tolerance with small portions when symptoms are well managed.
It's probably best to avoid infused or flavored spirits due to the potential addition of high FODMAP sweeteners or high FODMAP fruit juices. Since alcohols often do not come with food labels, it is very challenging to know which ingredients have been added to create the extra flavor and sweetness. If you have a favorite flavored spirit you don't want to give up, you can always reach out and inquire about these added flavors. While these flavors may just be artificial flavors and/or FODMAP friendly natural flavors, we can not assume anything.
As an example, here is an excerpt from the Absolut Vodka website.
Absolut Vodka is 100% delicious with 0% (that's Z-E-R-O) sugar, carbs, proteins, or fat. The same can be said for our flavored vodkas, made only of natural ingredients from berries, fruits, and spices with Z-E-R-O sugar added. Sweet!
This description leads me to believe that high FODMAP fruits may be used.
Tip: If carbohydrates and sugars are 0 grams, that product is unlikely to contain enough of a high FODMAP ingredient to induce a response.
Note however, that this information is not often provided. If you prefer a flavored spirit, approach with caution and test tolerance with a small portion when symptoms are under good control. You should also opt for a low FODMAP fruit to be on the safe side.
Wine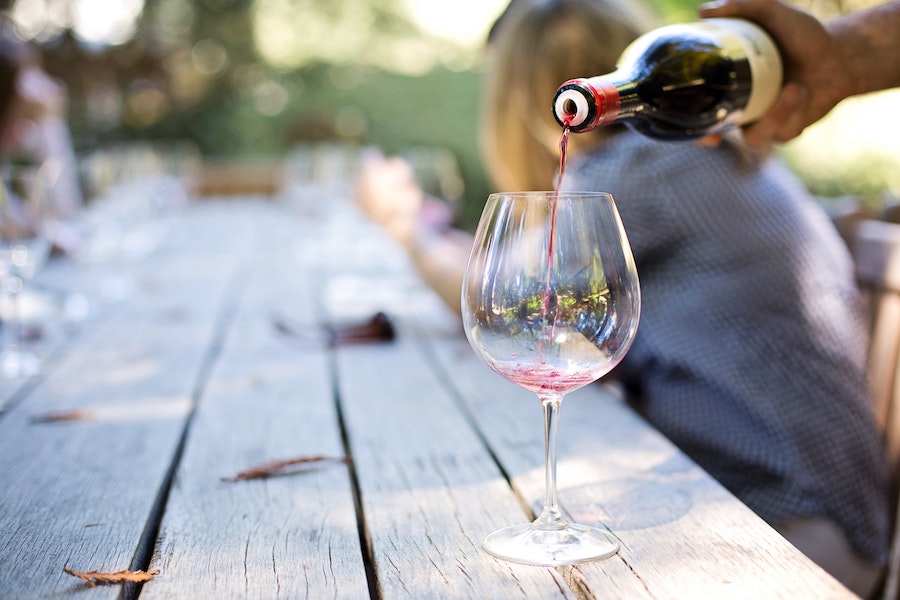 Monash states that one glass (150 mL) of red, sparkling, sweet, white, or dry white wine is low FODMAP. Wine is made from grapes, a low FODMAP fruit. Larger servings of red wine result in moderate amounts of fructose, therefore limiting your serving to 1 glass is recommended. Larger portions of the other wine varieties have not been tested, so I recommend implementing portion control with these other varieties even though larger portions of non-white wines have been tested.
Excess Wine Sugar and FODMAPs
The added yeast in the winemaking process helps consume the wine sugars, however sometimes residual sugars linger based on time, grape variety, temperature, and more. Grapes do contain fructose and glucose and some of the sweeter wines contain more residual sugar which may result in a higher fructose load.
Unfortunately, many wines are not labeled based on their residual sugar content. Most of the dry wines contain 0-10 grams of residual sugar per liter, which would fall in the low FODMAP alcohol category. It may be prudent to choose wines with 10 grams of sugar or less per liter or 1000cc to ensure additional sweeteners are not added (this information may or may not be available).
Low FODMAP Wines
Here are a few varieties I would recommend:
Red Wine – think Merlot, Cabernet Sauvignon, Pinot Noir, Shiraz, Malbec, Chianti, Zinfandel, and many more.
White Wine – Riesling, Chardonnay, Pinot Grigio, Viognier, and more.
Sparkling Wine – Champagne, Cava, Prosecco, Cremant, and more.
Dry White Wine – Sauvignon Blanc, Albarino, Pinot Gris and more.
Hard Seltzers
Made by fermenting cane sugar, a low FODMAP ingredient, hard seltzers seem to be taking over the alcohol aisle of late. The majority of hard seltzers are flavored with natural flavors, which are not of concern in non-savory foods, however a few use fruit juices so double check the label. While these products have not been tested by Monash, I am making a clinical judgment call that they are in fact low FODMAP since they are made from cane sugar and water.
Omission Hard Seltzer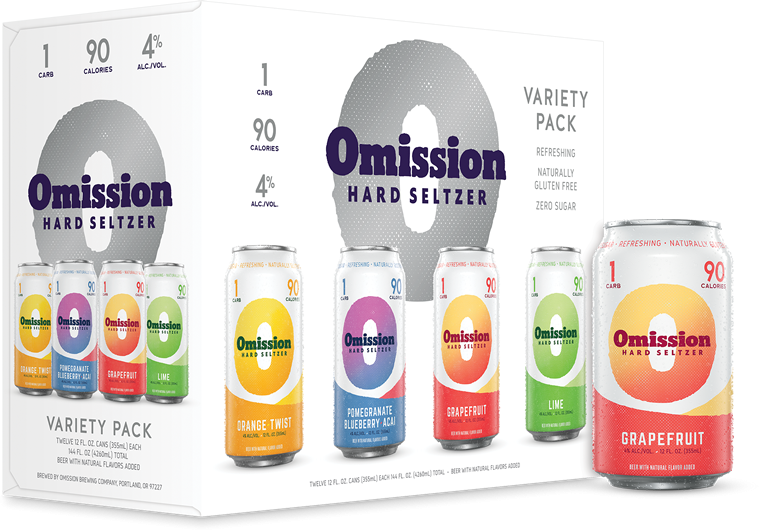 This company specializes in gluten free beer production and recently has moved into the hard seltzer space. This has quickly become my favorite hard seltzer.
Omission Hard Seltzer Orange Twist
Omission Pomegranate Blueberry Acai
Omission Hard Seltzer Grapefruit
Omission Hard Seltzer Lime
Anheuser-Busch Hard Seltzers: Bud Light and Bon & Viv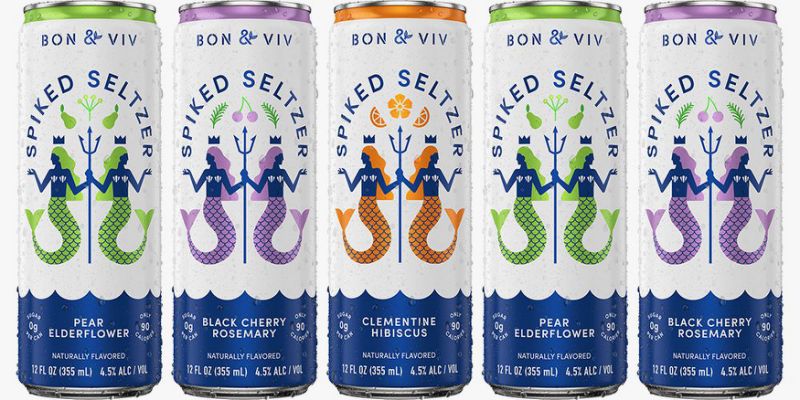 These two Anheuser-Busch brands have a number of low FODMAP flavors. These flavors contain no fruit juices or high FODMAP ingredients. Also, Anheuser-Busch lists all their nutrition facts and ingredients at tapintoyourbeer.com in case you want to explore.
Bud Light Lemon Lime Seltzer
Bud Light Black Cherry Seltzer
Bud Light Strawberry Seltzer
Bud Light Mango Seltzer
Bon V!V Spiked Seltzer Mango
Bon V!V Spiked Seltzer Pear Elderberry
Bon V!V Spiked Seltzer Lemon Lime
Bon V!V Spiked Seltzer Clementine Hibiscus
Bon V!V Spiked Seltzer Coconut Pineapple
Bon V!V Spiked Seltzer Grapefruit
Bon V!V Spiked Seltzer Black Cherry
Bon V!V Spiked Seltzer Cranberry
Barefoot Hard Seltzer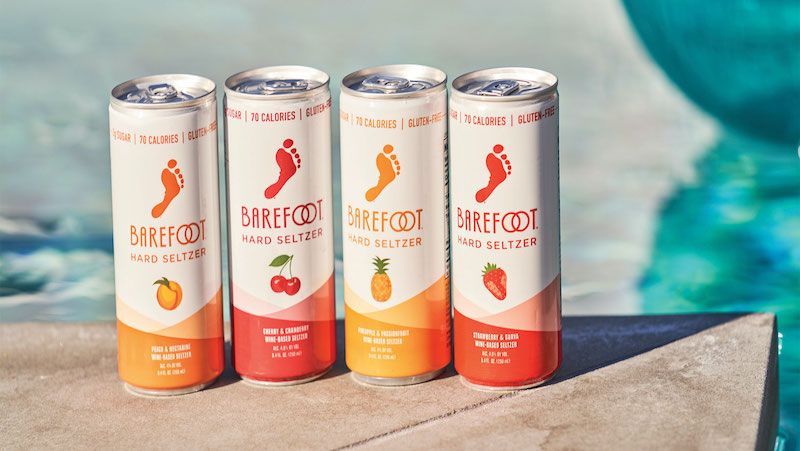 This seltzer is made from only three ingredients: Barefoot Wine, seltzer water, and natural flavors. Since all the flavors use natural flavors versus real fruit juices, they are all low FODMAP.
Barefoot Peach and Nectarine Hard Seltzer
Barefoot Cherry and Cranberry Hard Seltzer
Barefoot Pineapple and Passion Fruit Hard Seltzer
Barefoot Strawberry and Guava Hard Seltzer
Truly Hard Seltzer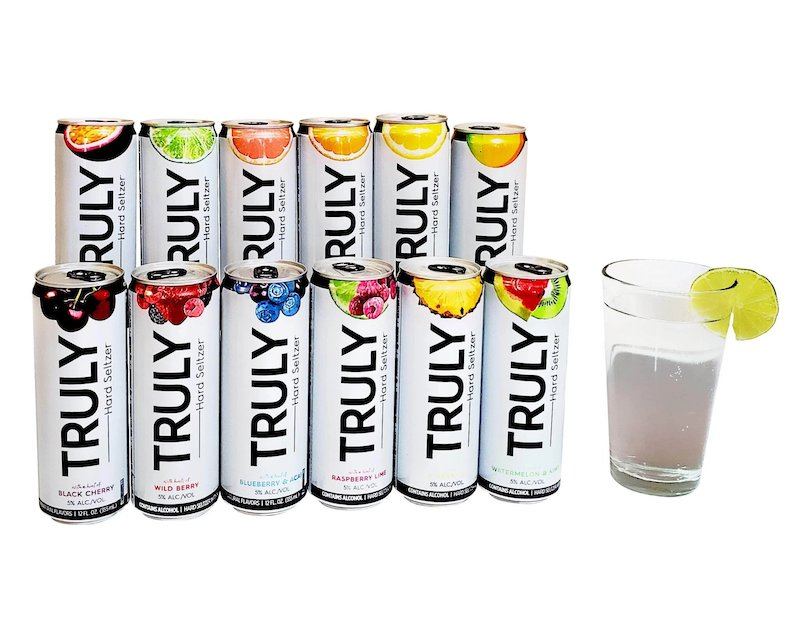 Truly is a very popular hard seltzer brand in the US. All of their seltzers are low FODMAP, because they are made from cane sugar, natural flavors, and water. They provide 100 calories and only 1 gram of sugar. Truly Lemonades, another low FODMAP variety, are made from cane sugar, stevia, natural flavors, lemon juice concentrate, and water.
Truly Hard Seltzer Lime
Truly Hard Seltzer Pineapple
Truly Hard Seltzer Wild Berry
Truly Hard Seltzer Blueberry and Acai
Truly Lemonade Original Lemonade
Truly Lemonade Black Cherry Lemonade
Truly Lemonade Strawberry Lemonade
Truly Lemonade Mango Lemonade
White Claw
White Claw is another very popular hard seltzer on the market. Some of the White Claw flavors contain high FODMAP fruit juice concentrates, however there are a few made from low FODMAP fruits.
White Claw Hard Seltzer Lemon
White Claw Hard Seltzer Natural Lime
White Claw Hard Seltzer 70 Pineapple
White Claw Hard Seltzer 70 Clementine
High FODMAP Alcoholic Beverages to Avoid
Sticky Wines and Dessert Wines
Sticky wine tested high FODMAP per Monash. Sticky wine is an Australian term for sweet wine. It is often served after a meal with dessert. Examples of sticky or dessert wines include sherry, port, tawny, Madeira, Marsala, Muscat, Banyuls, and ice wines.
Mike's Hard Lemonade
This product is actually classified as a beer, however if you have ever tried it, you would think it tastes nothing like a beer. This beverage contains fresh lemon juice, a patented neutral malt base, along with high fructose corn syrup (high FODMAP) and cane sugar.
Hard Ciders
Hard ciders have not been tested by Monash, however they are likely high FODMAP as they are made from fermented apple juice. Unfortunately, even the low FODMAP sounding ciders – think raspberry cider – are high FODMAP since they are still made from apple juice. It is best to avoid all ciders during the low FODMAP elimination phase.
Rum
Rum is a liquor made by fermenting and then distilling sugarcane and molasses. Rum is high in fructose and should be avoided on the low FODMAP diet. Watch out for rum in piña coladas, Mai Tais. and other tropical cocktails.
Low FODMAP Mixers
Making your own cocktail? Here are a few mixers to add to your low FODMAP alcohol.
365 Tonic Water
Blue Sky Soda
Canada Dry Diet Tonic Water
Club Soda
Cranberry Juice – double check the label to ensure apple juice, fructose, and high-fructose corn syrup are not present
Diet Soda – avoid those containing sugar alcohols
Fever Tree Club Soda
Fever-Tree Smoky Ginger Ale, Ginger Beer, Ginger Ale, Spiced Orange Ginger Ale
Fever- Tree Sparkling Lemon
Fever-Tree Tonic Waters – Premium Indian, Mediterranean, Citrus, Lemon
Fresh Squeezed Orange Juice
Hansen's Soda
IBC Root Beer and Cream Soda
Jordan's Skinny Mixes – Skinny Blood Orange Margarita Mix, Skinny Strawberry Key Lime Margarita Mix, Skinny Mojito Mix, Skinny Peach Bellini Mix, and Frosé
Kirkland Premium Margarita Cocktail Mix
Mr & Mrs T's Strawberry Daiquiri Margarita Mix
Schweppes Diet Tonic Water
Seltzer Water
Sparkling Waters
Zevia Mixer Ginger Beer
Zevia Mixer Lemon Lime with Bitters
Zevia Mixer Tonic Water
Common High FODMAP Ingredients Found in Mixers
Many cocktail mixers contain high FODMAP ingredients, so label reading is so important when making a low FODMAP beverage.
Tonic water is often made with high fructose corn syrup and some brands contain agave.
High fructose corn syrup, apple juice concentrates, and fruit juice (concentrates) are often found in store bought mixers.
High fructose corn syrup, fructose and agave are often found in margarita mix.
High fructose corn syrup and fruit juice blends are in Mai Tai mixers.
Agave sweetened mixers are often found at natural grocery stores
Garlic and onion are often lurking in Bloody Mary mixes.
Sodas including ginger ale often contain high fructose corn syrup.
Low calorie mixers may contain sugar alcohols such as sorbitol, mannitol, lactitol, maltitol, and xylitol, and isomalt.
Other Challenges to Consider When Drinking Alcohol
If you have experienced IBS symptoms when drinking alcohol, consider the following culprits as they may have played a role in your gut distress.
Carbonation
Many alcoholic beverages are carbonated and these bubbly, fizzy drinks may be triggering IBS symptoms. If alcohol worsens your IBS symptoms, try to pay extra attention to how carbonated drinks such as beer affect your gut versus non-carbonated beverages such as wine. If you are able to tolerate sparkling waters, you are likely able to tolerate other carbonated beverages.
Portion Sizes
Some can enjoy one to two alcoholic beverages, while others react to even a small serving – we are all different! Pay close attention to portions, since it is easy to exceed the safe threshold, especially at restaurants or bars when you are not in control of the pour.
Hopefully, this low FODMAP alcohol guide has helped you understand how to choose a compliant alcoholic beverage. Cheers and please drink responsibly! Please share your favorite low FODMAP alcoholic beverage or mixer with us in the comments!