For this week's release, Spoonful teamed up with FODMAP expert, Patsy Catsos, MS, RDN, LD to improve our data and give you more clarity on yellow products.
For each ingredient we mark yellow, you will now see one or more of the following icons.

Each icon gives you more context as to why the ingredient was marked and helps you decide what to do next.
Measuring Cup: A reasonable serving of this ingredient is moderate FODMAP. You'll want to double check these with the Monash app.
Meal Tray: FODMAP content depends on how this ingredient is prepared or treated. (Think fresh vs dried fruit or canned vs not canned beans.)
Pie Chart: FODMAP content depends on how this ingredient is refined or which part is consumed. (Think green onion bulbs vs tips or corn oil and corn starch vs whole corn kernels.)
Magnifying Glass: FODMAP content of this ingredient depends on its sub-ingredients. (Think *natural flavors in savory vs sweet foods or ingredients like vegetable fiber, where it depends on which vegetables are used.)
*Note: "natural flavors" is only flagged in the US and UK
Putting Yellow Icons into Practice
Black Beans
Take "black beans". We flag it yellow and give it both the Measuring Cup and Meal Tray icons.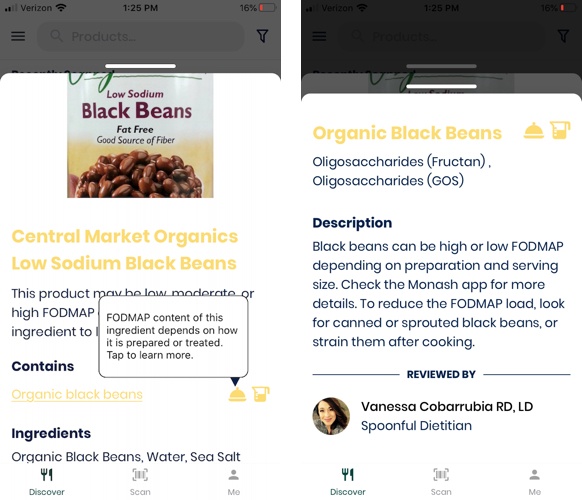 The measuring cup is pretty simple — black beans can be high, moderate, or low FODMAP depending on how much you eat. For these ingredients, you'll want to check the Monash app to find an appropriate serving size.
The meal tray requires a bit more research on your part. By looking at the dietitian note, you'll find that certain preparation styles (canned + strained) reduce the FODMAP load. Thus, if you'd like to enjoy black beans, opt for canned varieties over ones you make from scratch.
Leeks
Like black beans, "leeks" also require a bit more digging. In this case you'll notice that there is a Pie Chart and Measuring Cup.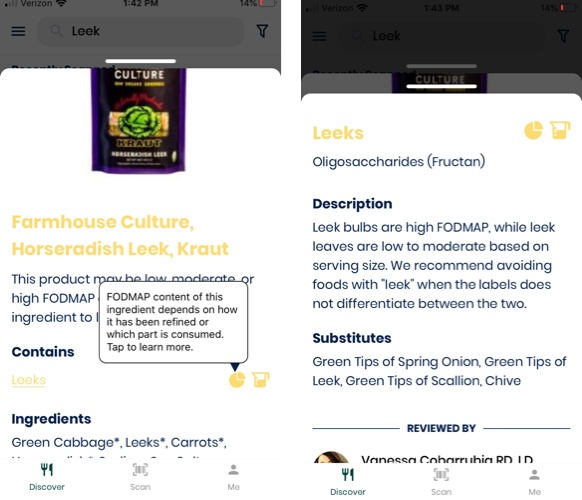 In this case, the Pie Chart is referring to which part of the leek is consumed. When you tap into the dietitian note, you'll find that "leek bulbs" are high FODMAP, while "leek leaves" are low to moderate FODMAP based on serving size. Knowing this, you'll want to figure out which leek part the product is using to understand the FODMAP load.
Data Improvements
In addition to rolling out new iconography, we have also made the following data changes.
Green split pea: This ingredient was changed from yellow to red.
Product refresh: We have updated many of our current data sources to account for new product formulas.
We hope you find this update useful in determining the FODMAP content of yellow products. Please note that both articles on our methodology and how we determine results have changed as a result of this update.