It's no surprise that pizza comes up as one of the top searched foods on the Spoonful app. This traditional Italian dish is a worldwide favorite that can be shaped or molded in so many unique ways. I think we can all agree that keeping pizza on the menu is essential, even if we are on a low FODMAP diet.
Did you know there is also a scientific explanation for why we love pizza? Many of our pizza toppings — think cheese, meat, and tomato sauce — contain the food chemical glutamine, which does a really good job at getting your taste buds excited and craving more.
Before we talk options, I have some harrowing news. Pizza can be quite the FODMAP bomb. The wheat flour used to make that crispy pizza crust and all the garlic and onions used to season the sauce and meats can really fill up that FODMAP bucket. The after effects are not quite worth it for me to indulge in the real deal on a regular basis. However, it is possible to enjoy pizza on the low FODMAP diet. It just takes a little effort and a few substitutions to enjoy your own gut-friendly pizza.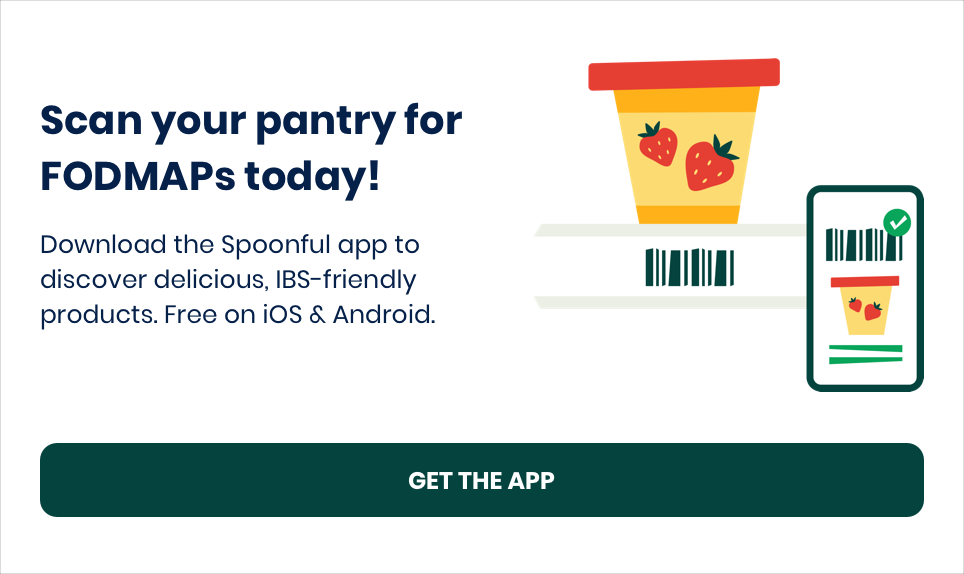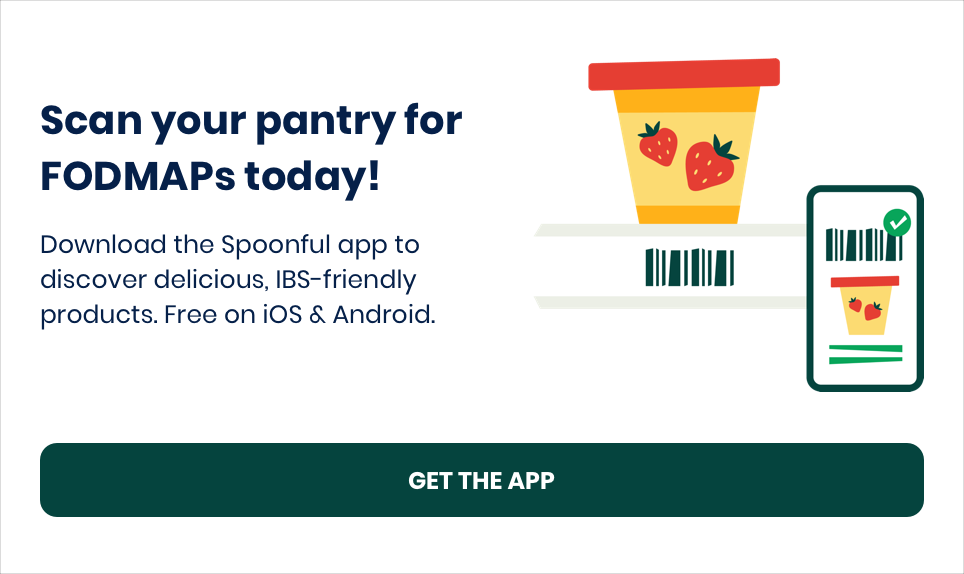 Frozen Pizza
I have searched high and low (no pun intended) for a frozen pizza that is also low FODMAP. The result? ONE darn pizza! Drum roll please…
Against the Grain Gourmet Three Cheese Pizza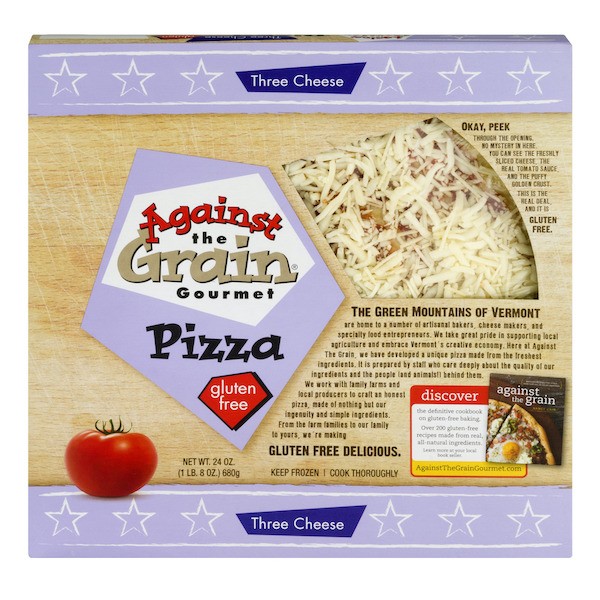 While there is a fair amount of cheese on this pizza, the lactose content is only 1 gram or less based on the food label. Just stick with the recommended serving size to keep the lactose in check.
DIY Pizza Pie
Since there aren't too many options in the freezer aisle, let's talk about how to make your own low FODMAP pizza pie with some of our favorite products from the Spoonful app. Many of these products are available nationwide, so feel free to mix and match and find a combination you love.
Step 1: Choose A Crust
Bob's Red Mill Gluten Free Pizza Crust – this one requires yeast (which is provided), 2 eggs, olive oil, and warm water plus a little time for the yeast to activate.
Schar Gluten Free Pizza Crust
Against the Grain Gourmet Pizza Shell
Udi's Gluten Free Pizza Crust
King Arthur Four Gluten-Free Bread & Pizza Mix
Mama Mary's Gluten Free Thin Pizza Crust
Step 2: Add Your Favorite Low FODMAP Sauce or Oil
Rao's Sensitive Marinara Sauce
FODY Marinara Pasta Sauce
FODY Tomato Basil Pasta Sauce
Prego Sensitive Recipe Traditional Italian Sauce
Tomato Sauce – without garlic and onion
Chef Boyardee Pizza Sauce with Cheese
Olive oil
Garlic Infused Olive Oil
Or make your own red sauce like this one by FODMAP Everyday: Low FODMAP Everyday Quick Tomato Sauce
Step 3: Add Your Favorite Aged Cheese
Mozzarella cheese
Parmesan cheese
Cheddar cheese
Goat Cheese
Read More: How to Choose a Low FODMAP Cheese
Step 4: Top That Pizza Off
Signature Farms Turkey Pepperoni
Hillshire Farm Pepperoni
Hormel Natural Choice Uncured Pepperoni
Volvi Prep Gourmet Pepperoni
Great Value Dry-Uncured Sliced Pepperoni
Hormel Black Label Bacon Original
Oscar Mayer Naturally Hardwood Smoked Bacon
Oscar Mayer Center Cut Bacon
Farmland Naturally Hickory Smoked Classic Cut Bacon
Red Bell peppers
Black or Green Olives
Pineapple (don't start with us…)
Basil
Oregano
Tomato slices
Arugula
Jalapeño Peppers
Sun-Dried Tomatoes (small portion)
Tip: For an extra fancy topping, drizzle a little balsamic vinegar over your pie before eating.
Ordering Low FODMAP at a Pizzeria
For those of us who prefer not to spend hours in the kitchen, here's the scoop on ordering a low FODMAP pizza at restaurants.
Ask For a Gluten Free Crust
Traditional pizza crusts are high in fructans due to the wheat flour. While there is a low FODMAP serving size of wheat, it is probably a better idea to stick with a gluten free variety so you can enjoy a larger portion.
Olive Oil > House Sauce
Request your pie to be brushed with olive oil and skip the pizza sauce as this will likely contain both garlic and onion.
Stick to Aged Cheese
Stick with low FODMAP aged cheeses such as mozzarella and parmesan cheese. Mozzarella is low FODMAP at one-half cup. This can potentially add up if you indulge in several slices or the chef went heavy on the cheese. If you are concerned with getting too much cheese, you can also request easy on the cheese and/or watch your portions.
Tip: Avoid the fresh mozzarella cheese since this can contain too much lactose. Fresh mozzarella is often used in Margherita pizzas.
Toppings
Bell peppers
Black or Green Olives
Pineapples
Basil
Oregano
Tomato slices
Arugula
Unseasoned chicken (if available)
Tip: Most likely the pepperoni and sausage at your local pizzerias contains garlic and onions, so it's best to avoid these when ordering.
Start with a Salad
Try pairing your pizza with a simple low FODMAP green salad. Oil and vinegar make for a simple salad dressing that should be available at most restaurants. Adding this first course can help you feel satisfied with maybe a slice or two, plus give you a little fiber and nutrient boost.
Read More: Make a Craveable Low FODMAP Salad
On a Personal Note
Trust me, there has been some serious grieving on my loss of eating traditional pizza with my kids or grabbing a quick slice with a friend. Finding a gluten free crust and making these modifications on the fly is not always so easy. However, with a little planning, you can still enjoy pizza.
Fortunately, my IBS symptoms are not triggered by small and moderate quantities of garlic and onion, so I can enjoy a gluten free pizza with low FODMAP toppings. Many of my friends are willing to share a gluten free pie with me and this really helps to keep me and my belly happy.
Pizza nights with my kids means a little more DIY action, but on the flip side, it allows me to sneak a few extra vegetables in both my kiddos.
My advice when taking on the low FODMAP diet is to focus on what you CAN have, not what you cannot. There are plenty of low FODMAP foods (including pizza) that you can enjoy and I hope this post helps you do just that.