Quinoa can easily be labeled as one of the more trendy foods on the market today. While technically a seed, it is classified as a grain in the nutrition world and often referred to as a super grain or superfood. Quinoa is a gluten-free, wheat-free, allergen-free, nutrient dense whole grain alternative perfect for those with celiac, food allergies, and those following the low FODMAP diet.
Not only does quinoa have a pretty amazing nutrition profile, it is also super easy to incorporate into your daily eating patterns. Quinoa is super versatile and can be enjoyed at breakfast, lunch, dinner, snack time, and even made into a dessert. Yes, even dessert, I still dream about an incredible piece of chocolate quinoa cake given to me years ago. If you have not yet tried this incredible grain, now is the time to explore.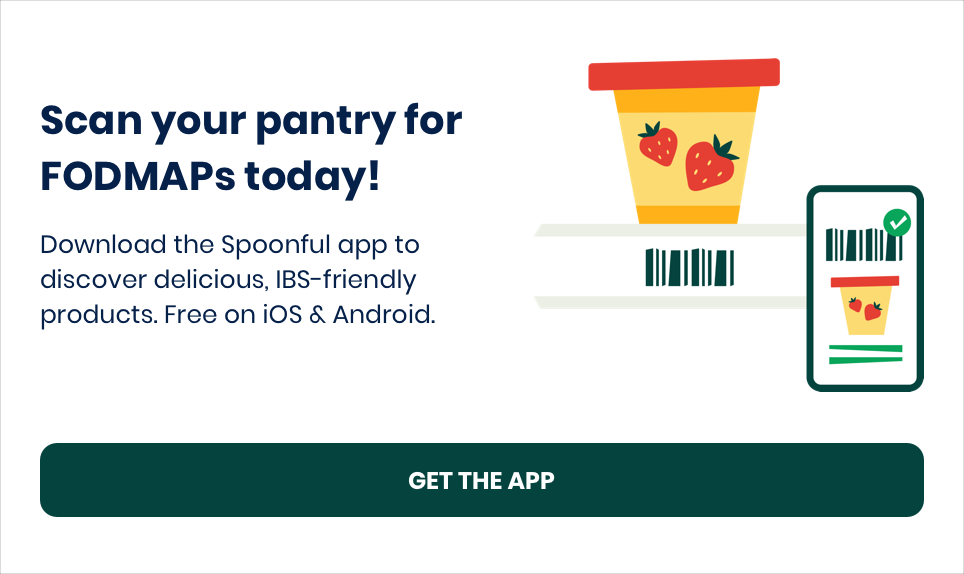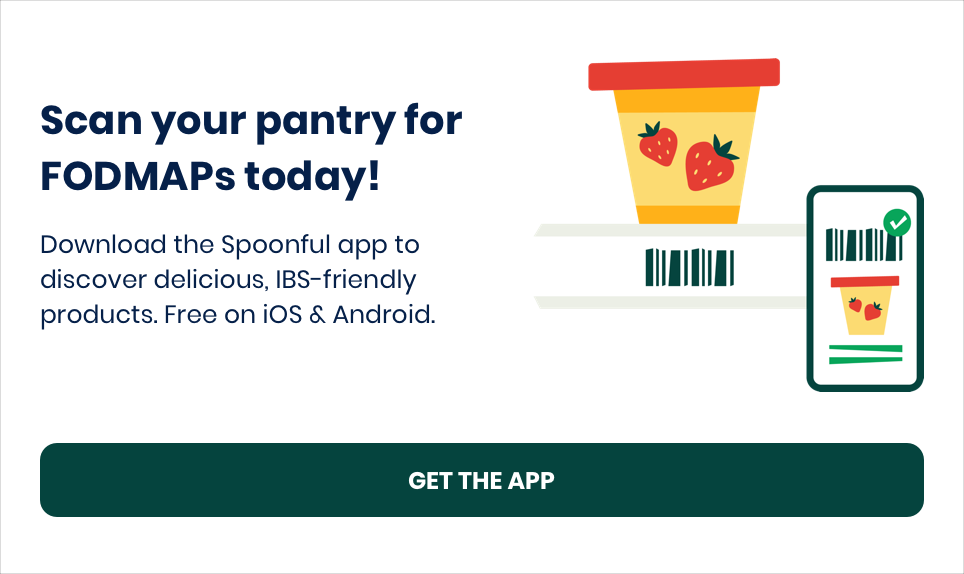 Monash Tested Quinoa Products
Quinoa – the Grain
Quinoa comes in a variety of colors, most commonly white, black, and red – all low FODMAP per Monash at one cup cooked. White quinoa has the shortest prep time and fluffs up the most after cooking. It also has a more mild nutty flavor and is more chewy in comparison to the others. Black and red quinoa have a little more of an earthy taste, take a little longer to cook, and offer a bit more crunch.
Quinoa Pasta
This variety is low FODMAP at one cup. There are several quinoa or quinoa + rice or corn blend pastas on the market today, just check the pasta or gluten-free aisle at the grocery store. Quinoa pasta can get a little mushy if you overcook, so watch the cooking time and check often. Once the pasta is firm and no longer dry or crunchy, it is ready to serve.
Quinoa Flakes
These are low FODMAP at one cup uncooked, which is a a pretty large serving size. Quinoa flakes are very similar to oats in texture and are often prepared in a similar manner. You can also substitute these for oats in a variety of recipes.
Check out this yummy Peanut Butter Quinoa Porridge Recipe from Delicious as it Looks.
Quinoa Flour
This is low FODMAP at ⅔ cup, also a hefty serving size. As with some other single grain gluten-free flours, I often recommend using recipes calling for quinoa flour versus just substituting quinoa flour for all purpose flour to ensure best results. Here are a few quinoa flour based recipes to try:
Quinoa Milk
And finally, quinoa milk is low FODMAP at one cup. In recent years, quinoa milk has been a little harder to spot, however it is definitely worth a try if you can find it.
Nutrition Benefits
Quinoa is an excellent source of fiber, which is often compromised when adapting to a low FODMAP diet. Quinoa is also perfect for vegetarians, since it is a complete protein, meaning it contains all nine essential amino acids, while many other plant foods fall short. Additionally, quinoa provides iron, copper, thiamine, Vitamin B6, Vitamin B2, lysine, magnesium, and manganese- all important to keep our bodies healthy and happy.
How to Cook Quinoa
Quinoa is fairly easy to make if you follow these simple steps:
Rinse the quinoa to remove the bitter, soapy taste from the naturally occurring saponin.A fine mesh colander works best here.
Boil water in a medium saucepan and add the quinoa using a 2:1 ratio of water to quinoa.
Simmer for 10-20 minutes or until all the water is absorbed. Stir a few times to keep the quinoa from sticking to the bottom of the pot.
Let it sit for another 5 minutes and fluff up with a fork.
How to Incorporate Quinoa into Your Everyday Routine
I love the fact that quinoa can be eaten hot and cold, making it a super easy grain for batch cooking when meal prepping. Here are some fun ways to enjoy this amazing grain. Let's get inspired!
As a cereal
Quinoa can be enjoyed as either a hot cereal or cold cereal. One of my favorite breakfast options is to top warm quinoa with a serving of low FODMAP nuts and fruit, lactose free milk or almond milk, 1-2 teaspoons of maple syrup, and cinnamon. You can even try a little combination of oats and quinoa to mix things up.
Above are some of my favorite brands for making quinoa cereal.
Sushi
Swap out sticky rice for quinoa next time you are making sushi at home.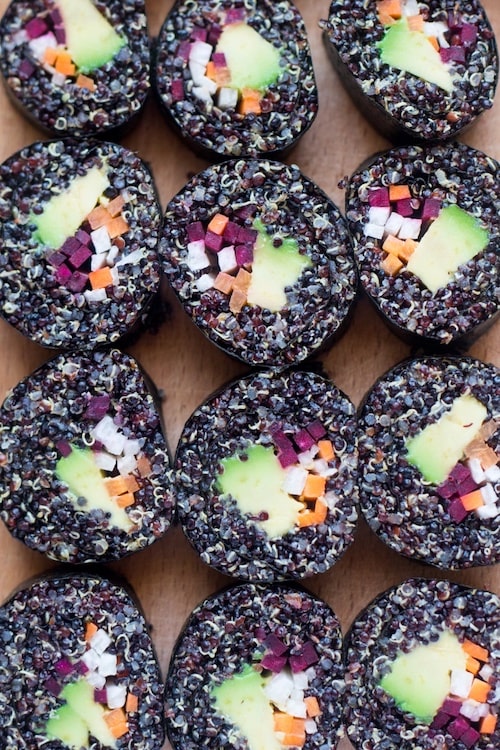 This is a fun Veggie Quinoa Sushi Recipe by Lazy Cat Kitchen. Just watch your portion of avocado and beetroot to keep it low FODMAP.
Salads
One of my favorite ways to enjoy quinoa is in a salad. For those pasta salad lovers just swap the wheat-based pasta for quinoa or quinoa pasta.
For a tasty Greek salad, simply add olives, feta cheese, tomatoes, cucumbers, green onion tips, oregano, oil and lemon juice to your cooked quinoa of choice. Here are a few simple, easy to assemble, delicious quinoa-based salads.
Quinoa Chips & Crackers
I really enjoy Simply7 Sea Salt Quinoa Chips. Why? They are a nice change from your basic potato or tortilla chip plus this specific brand gets dietitian bonus points since quinoa flour is the first ingredient.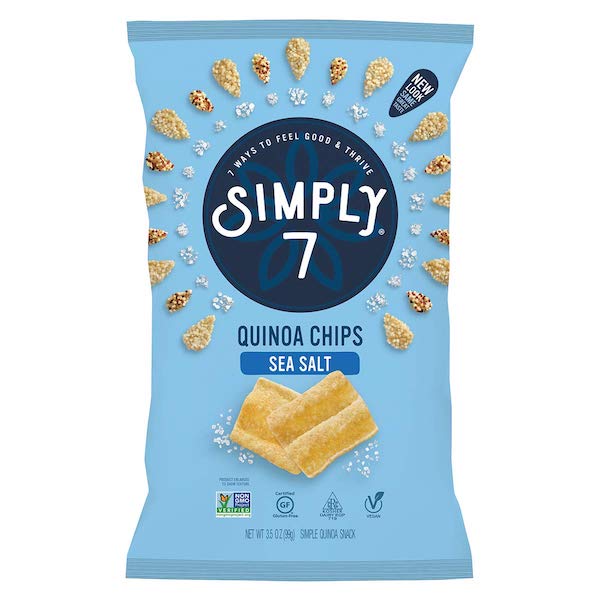 Another favorite are Le Pain des fleurs 100% Organic Quinoa Crispbread. These crackers are thin, crispy and airy with a delicate flavor. These are best paired with aged cheese or your favorite nut butter and make a perfect snack when hunger strikes.
Quinoa-Based Chocolate
And last but certainly not least… chocolate! It would be a shame if I forgot to mention the Hu Kitchen Almond Butter & Quinoa Chocolate Bar and the Alter Eco Dark Quinoa Chocolate Bar. Okay, just because it is made with quinoa does not mean it's a health food, but honestly these are both pretty delicious and worth the occasional splurge.
We hope this article gets you excited about adding this amazing grain into your diet. Finding ways to boost low FODMAP fibers is always one of my main goals with my IBS clients and quinoa is an easy way to help fill in this gap.
Please share your favorite quinoa recipes and products in the comments!